5 tools to touch-up around bathroom tiles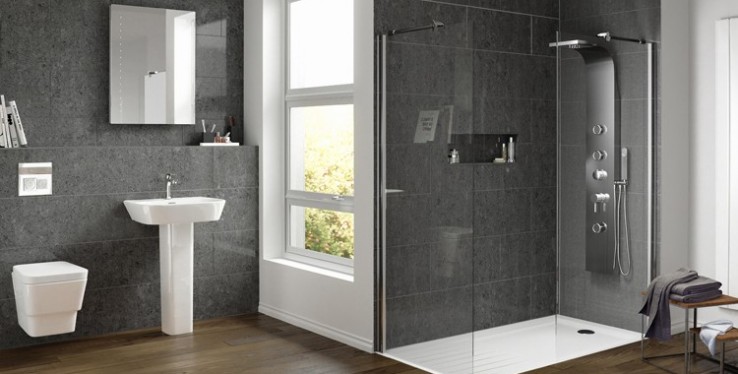 Bathroom tiles are a hard-wearing and generally easy to clean surface, but unless your bathroom is a wetroom, it's likely that you still have some surrounding paintwork to touch up from time to time.
If you've just installed new luxury bathroom tiles, you'll want the rest of your decorating to do them justice - so here are five tools to add to your collection for a neat finish.
1. Paint stirrer
While you can use any old (clean) stick to stir paint, it is much much easier with a proper paint stirrer, and they won't break the bank.
A stirrer is typically a plastic stick with several holes in the surface, which help to mix the paint more thoroughly - easy to rinse after use, ready to be used again and again.
2. The right roller
Not all paint rollers are the same, so look for the right type - if your bathroom walls are rough you'll want the shaggier kind of roller for a more textured finish.
On smooth plaster, a less shaggy paint roller should still give good coverage, but with a smoother paint finish, making a good minimalist option only if your walls are pristine enough to pull it off.
3. Masking tape
Not strictly a 'tool', but still a toolbox essential, masking tape protects your tiles against any stray splashes of paint at the edges.
For even truer protection, consider taping newspaper sheets over the bathroom tiles to cover more of the surface - just remove them before there's any risk of the print transferring.
4. Mini roller
For the right textured finish close to the edges, a mini roller can get to the parts a full-sized roller wouldn't reach.
Again, look for the right type of mini roller - for smooth or rough wall surfaces - and you can be assured of an even closer match for the texture of the rest of your wall.
5. Edging brush
An edging brush, angled brush or 'nook and cranny' brush has a narrow head of bristles tilted forwards from the handle, making it easy to get into the edges where a normal paintbrush might lack precision.
Remove masking tape when the paint is not quite touch dry, but definitely dry enough not to drip - this should help to prevent the risk of bone-dry paint flaking or peeling off with the tape, and give a neat finish right up to the edge of your bathroom tiles.