Bringing the Outdoors In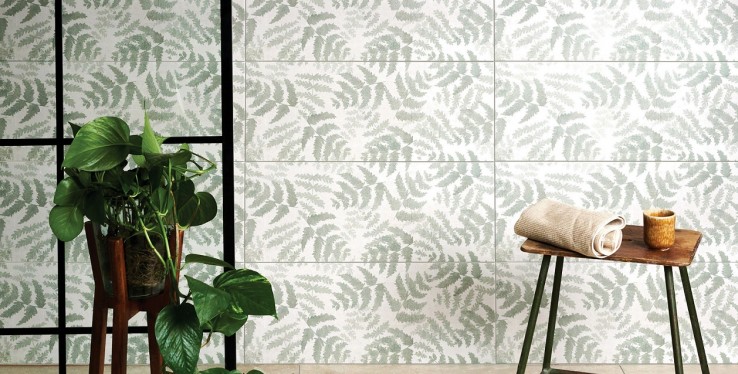 The idea of bringing the outdoors in is a timeless method in interior design, and firmly remains a popular trend this year – but is there a reason so many of us are drawn to interiors that mimic our natural surroundings?
Some say that incorporating natural elements into our homes is an innate instinct, as it connects us to other forms of life and provides feelings of comfort and relaxation, whilst others attribute our attraction to nature to the positive effects it has on our wellbeing, such as increased productivity and decreased stress levels.
The term 'Biophilia', coined by psychologist Erich Fromm, defines this feeling as "the passionate love of life and all that is alive" and suggests that introducing the natural world into our living spaces will improve our quality of life by positively affecting our mental health.
In this blog, we will explore a selection of our favourite natural tiles that best evoke feelings of serenity and can help you to bring the outside in to your own home – ranging from tropical landscapes, to authentic wood-effect porcelain.
Wood-effect porcelain
With many leading tile companies now using state-of-the-art technology that accurately mimics the veining and imperfections of natural wood, it is possible to enjoy the look and feel of real wood in your home but with a hard-wearing and easy to maintain wood-effect porcelain tile.
We love Flaviker's collection, which includes a beautiful range of wood-effect porcelain tiles to suit every interior taste.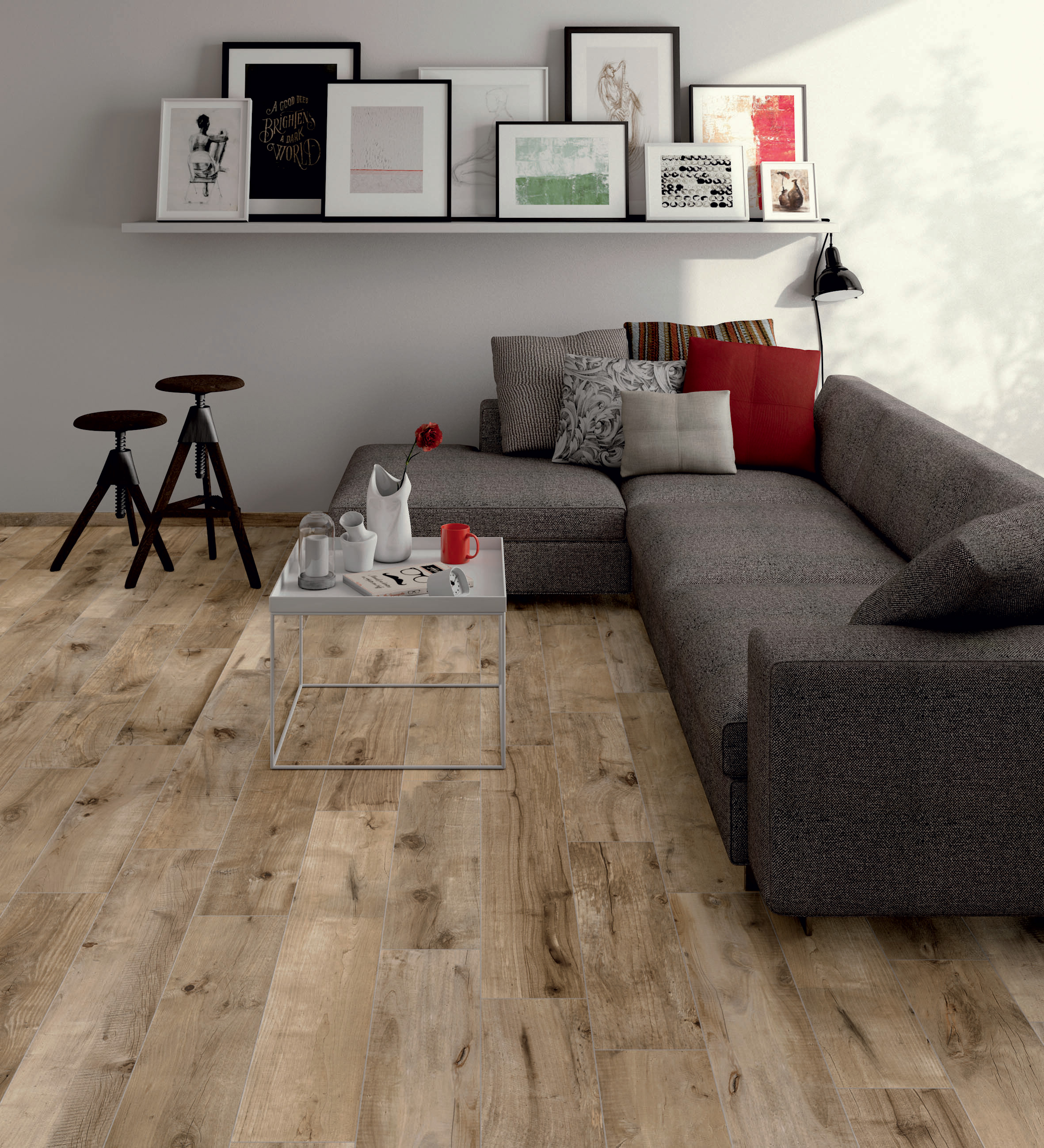 Flaviker's Dakota collection features a range of ultra-realistic wooden designs, taking inspiration from Northern American landscapes to create a cosy feel within your home.
Pictured here is shade Avana – a neutral toned wood featuring subtle knot detailing to enhance its authentic appeal.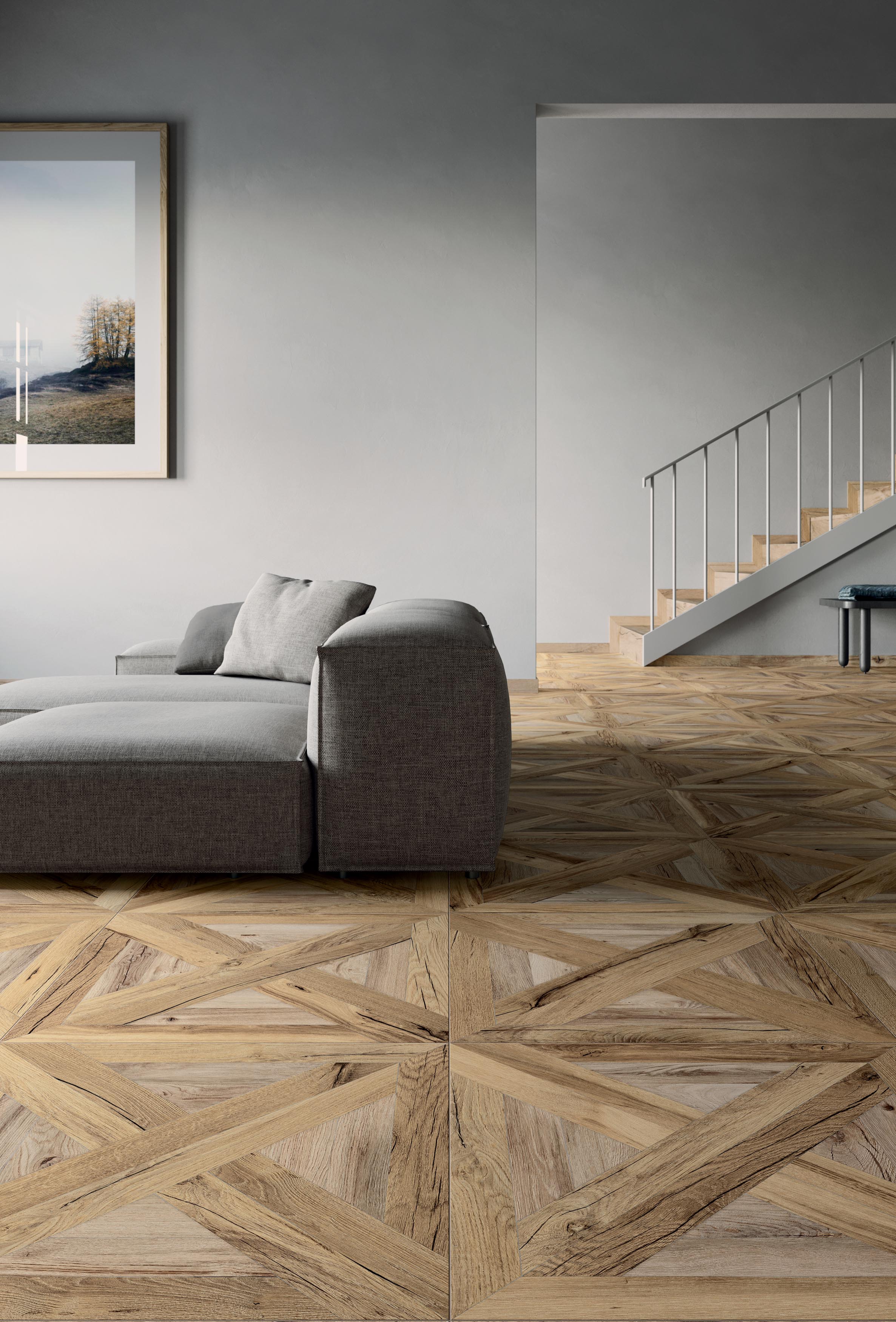 Another collection worth exploring if you're on the hunt for a luxurious wooden-look tile is Flaviker's Nordik Wood range. The Palace Beige/Gold shade from the range creates a bold pattern that looks stunning when laid as a statement floor in open living spaces.
Foliage Fun
Embracing the elements within your home doesn't necessarily mean you need to replicate natural materials such as wood and stone.
Bringing the outside in can also involve colourful, floral patterns - whether it be delicate daisy patches, or vivid violet blooms.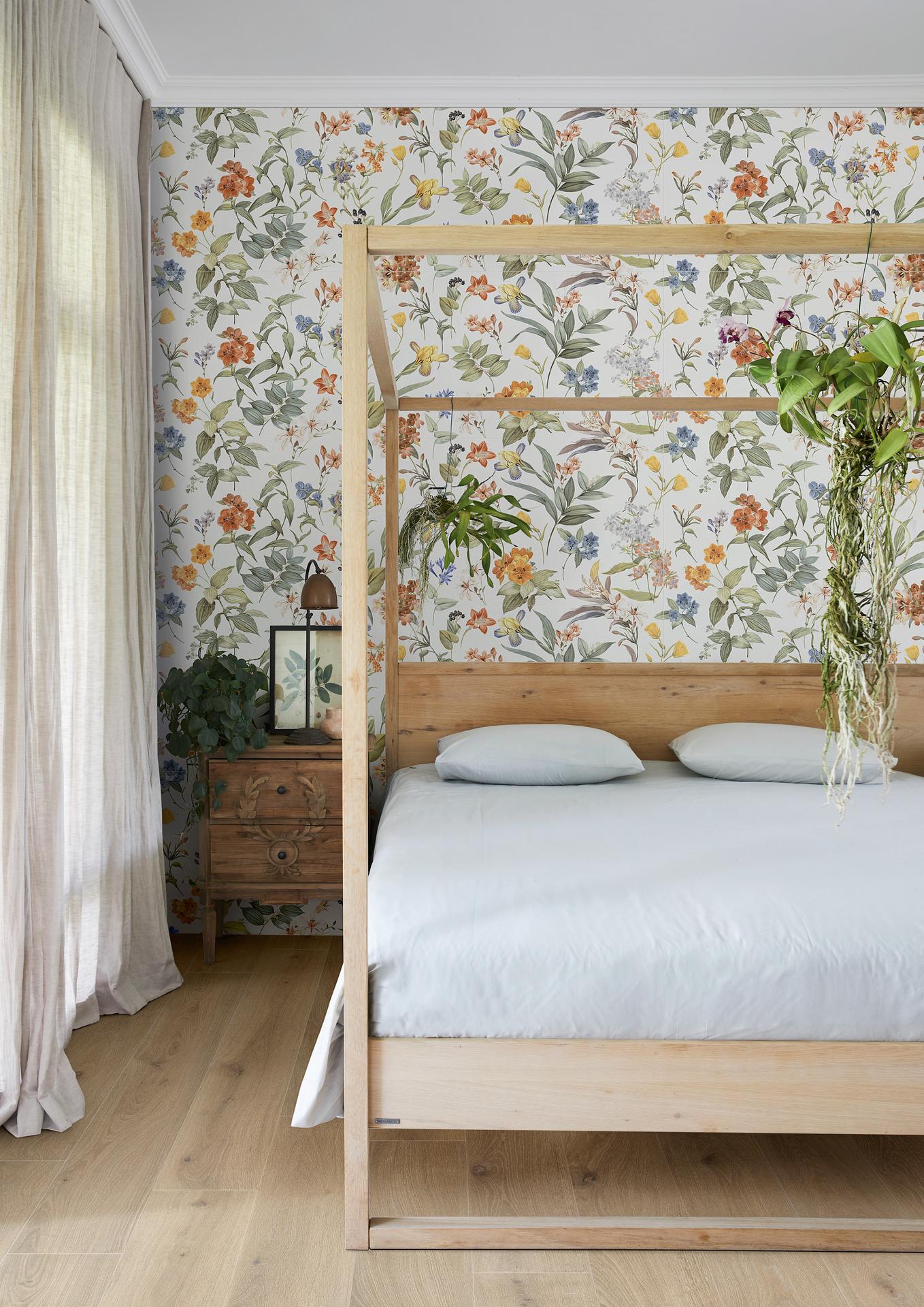 Marazzi's White Botanica tile features an intricate array of wildflowers, and is ideal for adding a beautiful botanical effect to your home. We love the way it has been used in this bedroom to create a gentle feeling of relaxation!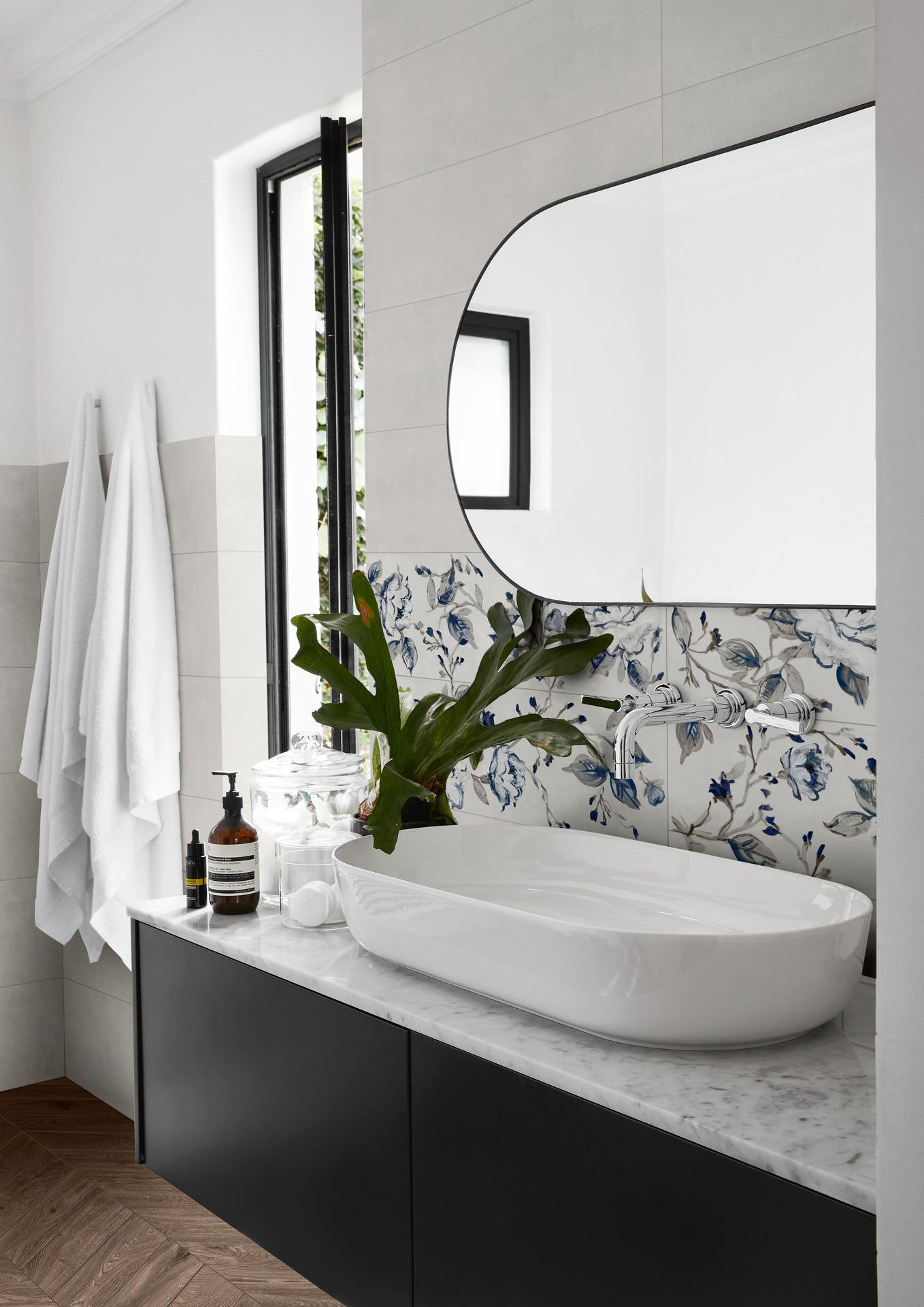 Why not take your love of botanicals to the bathroom with an uplifting splash back or feature wall? Marazzi's Chill Decoro Melody White tile showcases a subtle, floral pattern that incorporates colour tastefully whilst bringing character to minimalist interior schemes.
Leafy Greens
Green is one of the top-trending colours of the moment, and we love it for its versatility.
Whether it is a soft touch of pistachio to brighten minimalist schemes, or intense emerald to create a bold statement, there is undoubtedly a shade to compliment every interior.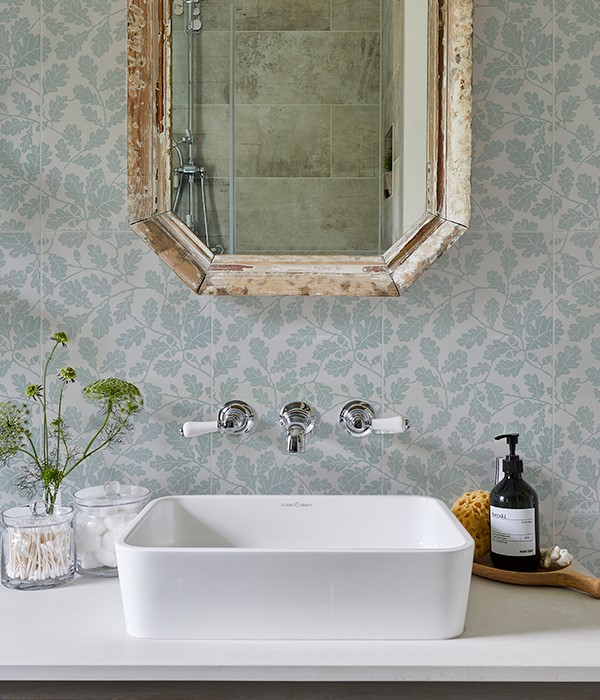 Starting subtle – Ca' Pietra's Alfriston Clergy Sea Kale tiles feature a delicate design, with a muted green leaf print that works to enhance minimalist interiors.
This particular tile is part of a collaboration between Ca' Pietra & The National Trust – with the tile collection taking inspiration from traditional buildings and landscapes that The National Trust care for.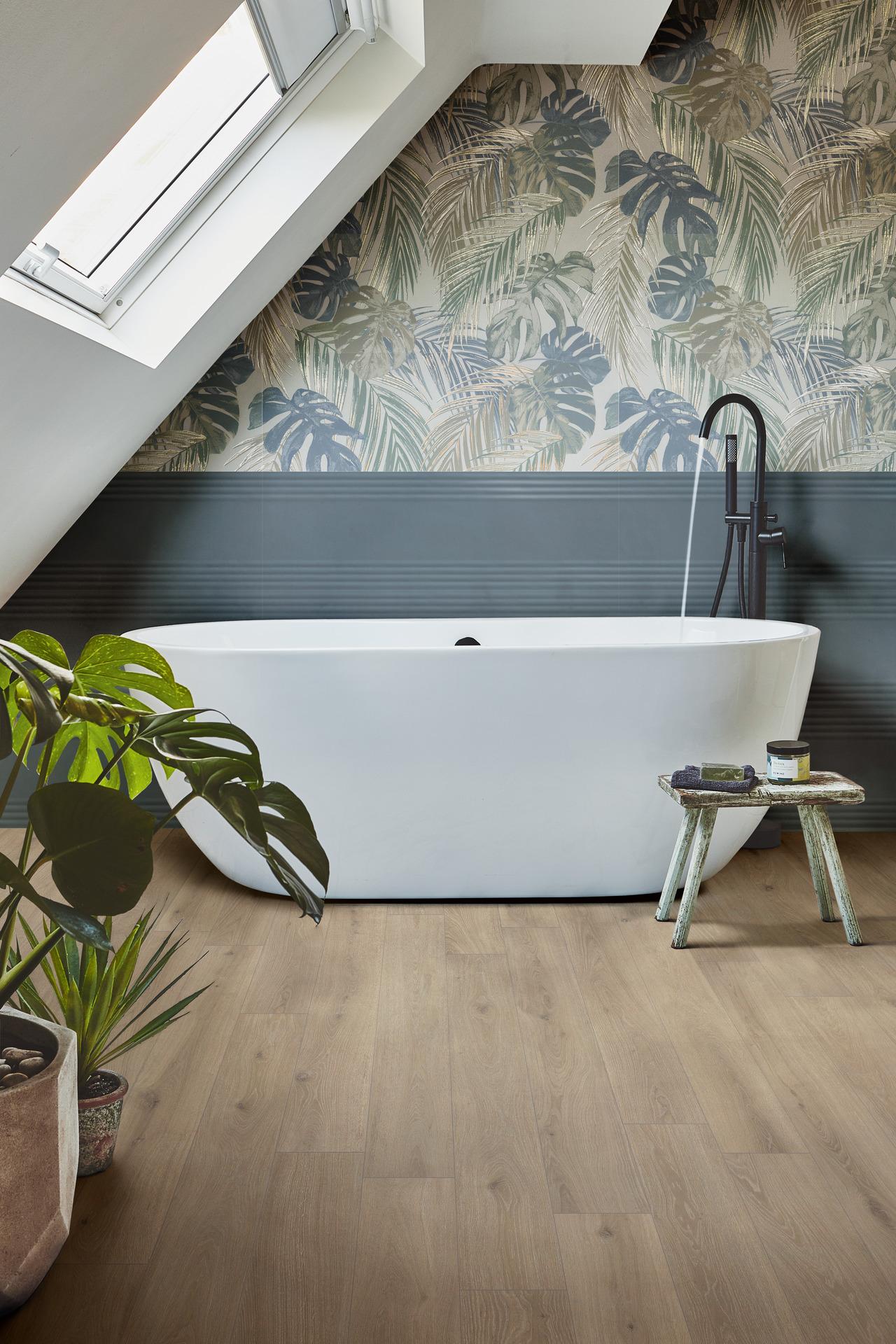 For a bigger impact, you may want to consider a more daring print to create a stunning focal point.
Marazzi's Momenti tile collection features a range of exciting patterns which make perfect splashbacks or feature walls. We are particularly loving the Momenti Decoro Ferns Bianco tile, as it reminisces on tropical climates, giving your home an uplifting feeling!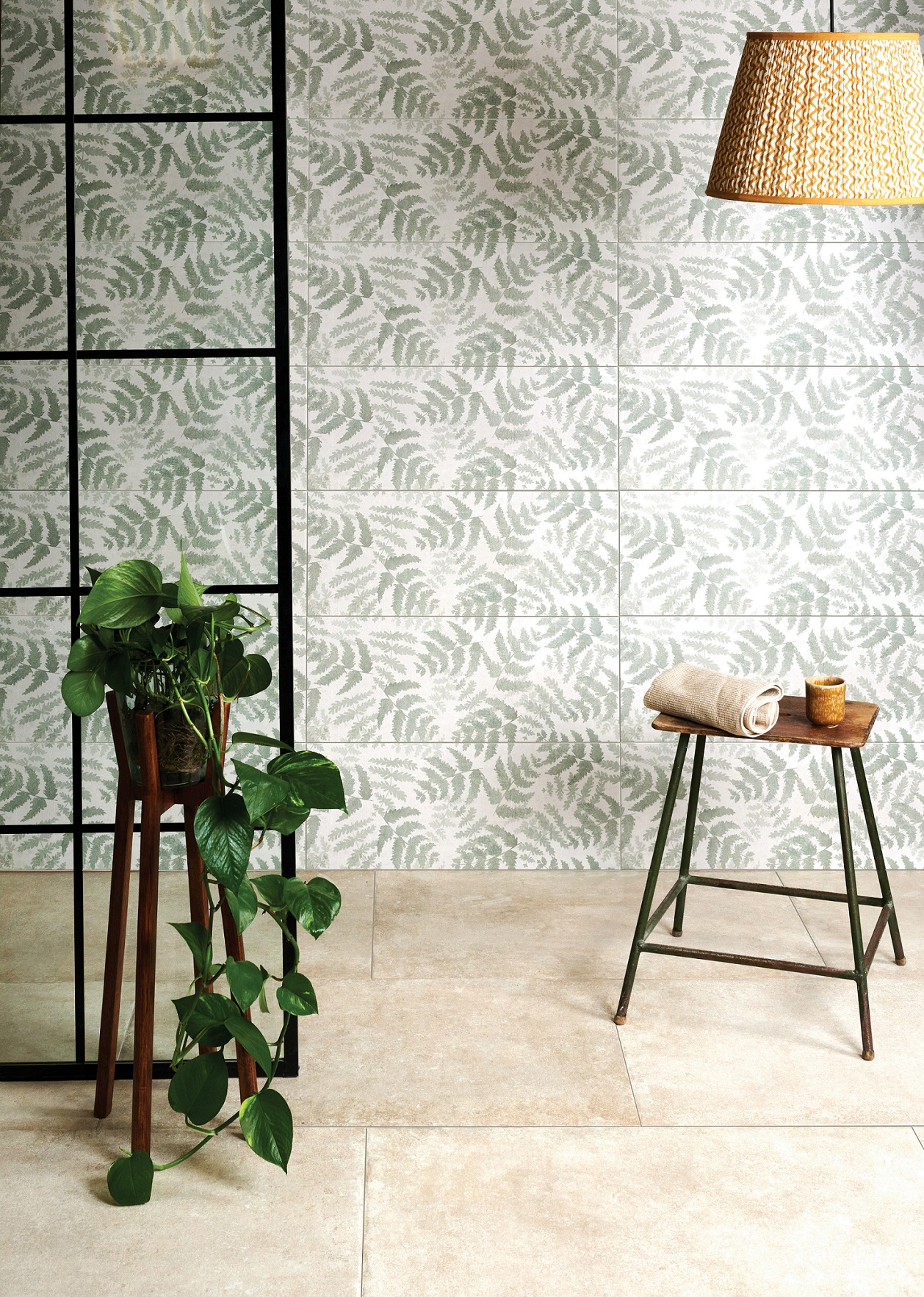 We're also loving the Glendurgan Ceramic tile in the 'Fern Olive' shade. This tile also belongs to the Ca' Pietra x National Trust collaboration, designed to reminisce on the idyllic landscapes of Cornwall, and the abundance of ferns and moss that grow in this particular area.
If you're keen to incorporate the elements into your next interior project, either pop in and see us on the Stanley Green Trading Estate today or contact us on: 0161 485 1373