Create Your Own Spa-Inspired Bathrom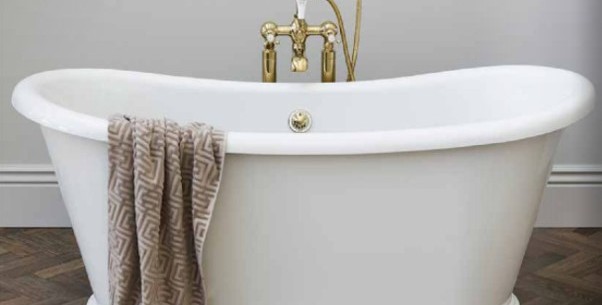 Nothing beats the luxury and tranquillity of winding down in a spa, so why not bring that feeling home? With our extensive range of tiles and bathroom fixtures and fittings, it's entirely possible to create your own spa-inspired bathroom to enjoy day in day out!
Throughout this blog, we will explore a range of designer products that will help you create a dreamy oasis so you can pamper yourself in the comfort of your home.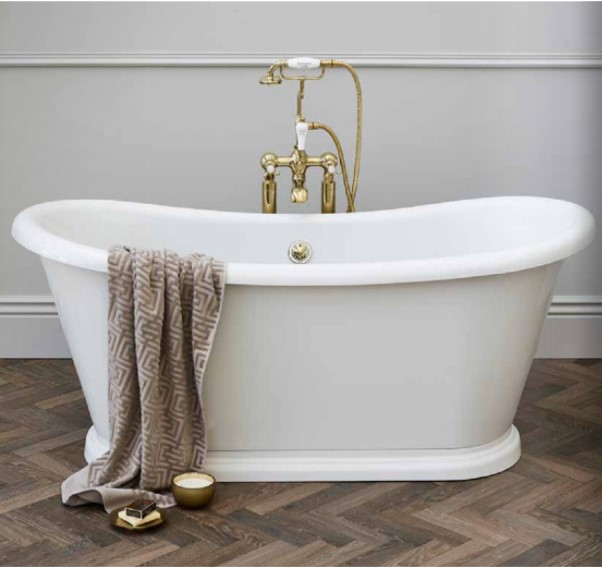 Burlington's Admiral double-ended standalone bath is ideal to stretch out and relax in. Simply light some candles, fill the tub with bubbles, unwind and escape reality.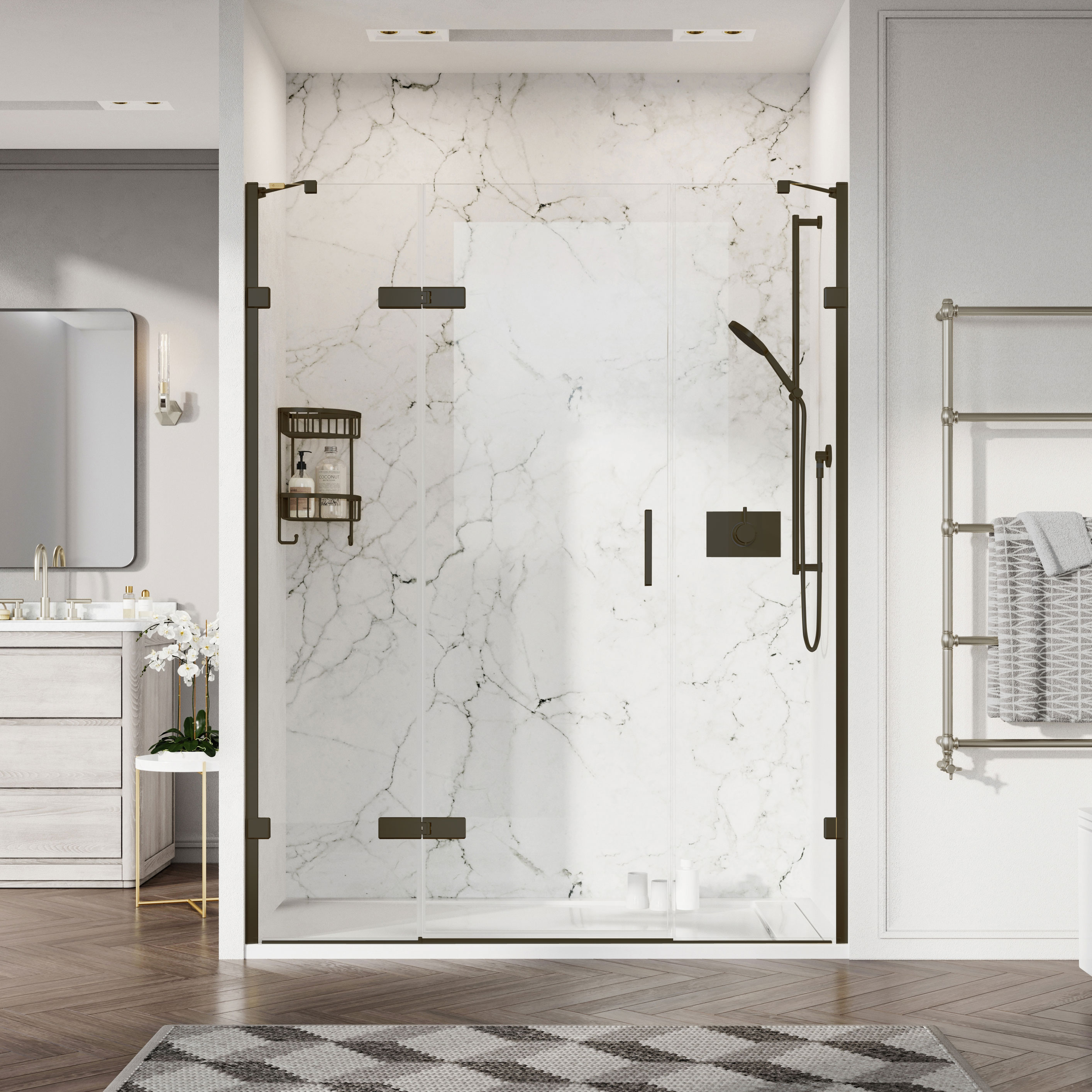 The Roman Liberty Hinged Door (with two in-line panels) welcomes in natural light and creates an opulent feel in any bathroom. Featuring discreet fixtures that can be installed in a range of popular shades including Matt Black, Polished Chrome, Brushed Nickel, Polished Nickel, and Brushed Brass, this minimalist enclosure simultaneously opens up and enlarges the feel of your space.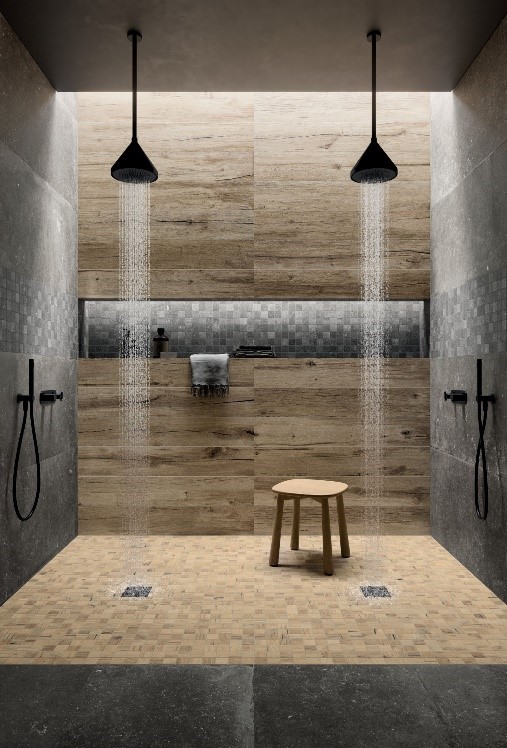 The use of natural elements is a great way to create a relaxing feeling in your home, and Flaviker's Nordik Wood tile collectionis an ideal choice when looking for an ultra-realistic porcelain tile replica.
This stunning collection brings the calm of nature into your bathroom and emphasises the feeling of serenity, with a Scandinavian feel. If you love a log cabin, this collection is perfect for creating your rustic oasis dream in your own home.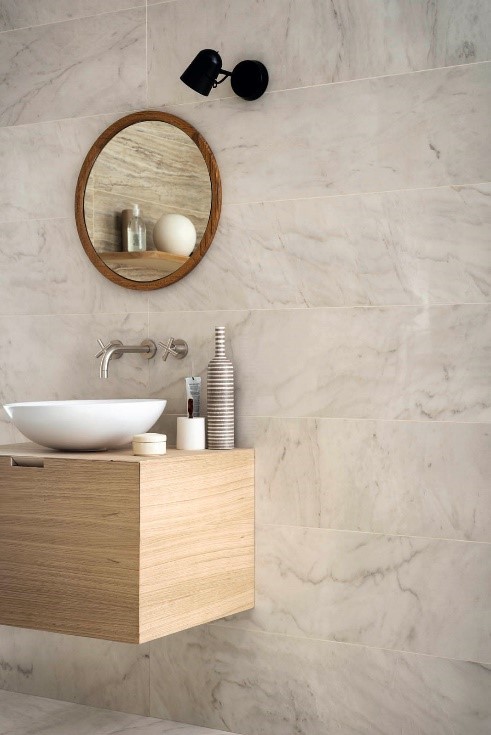 For a more subtle appeal, Marrazzi's Allmarble stoneware collection create a smooth and elegant look with its gorgeous, neutral tones. Made from porcelain, this ultra-realistic collection replicates authentic marble patterns. Commonly used within luxury spa settings, marble provides a visual stimulation of different colours blended together creating a tranquil environment.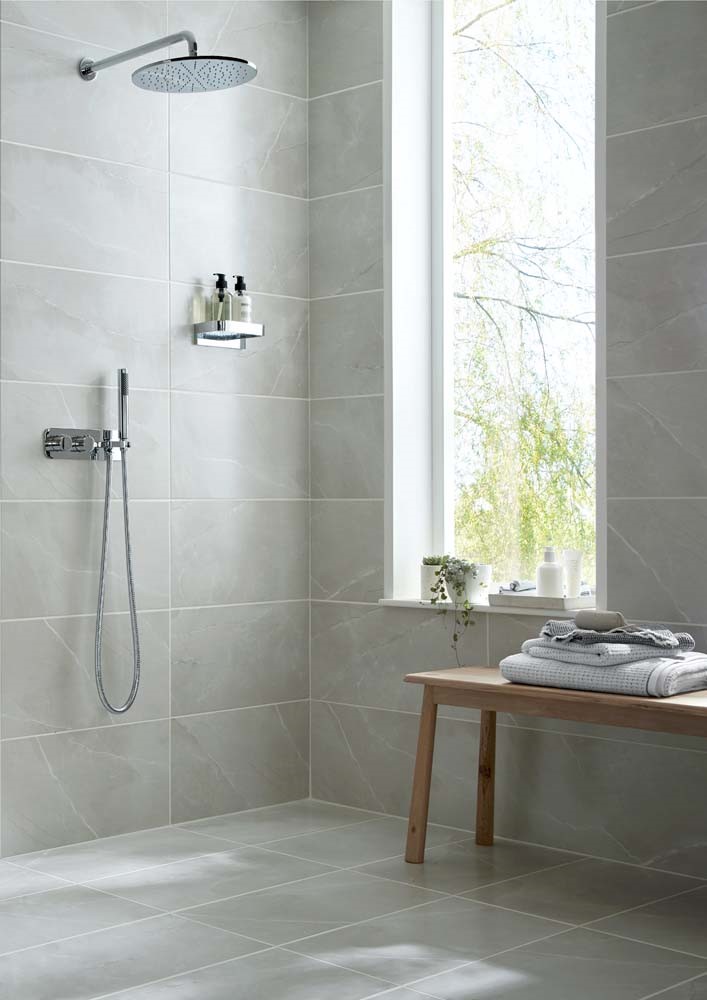 The Vado Nebula Rain shower head creates an all-encompassing, therapeutic experience - turning showering into an indulgent experience.

This bathroom's sleek wet room design is beautifully minimal, providing a spacious environment in which to relax and cleanse.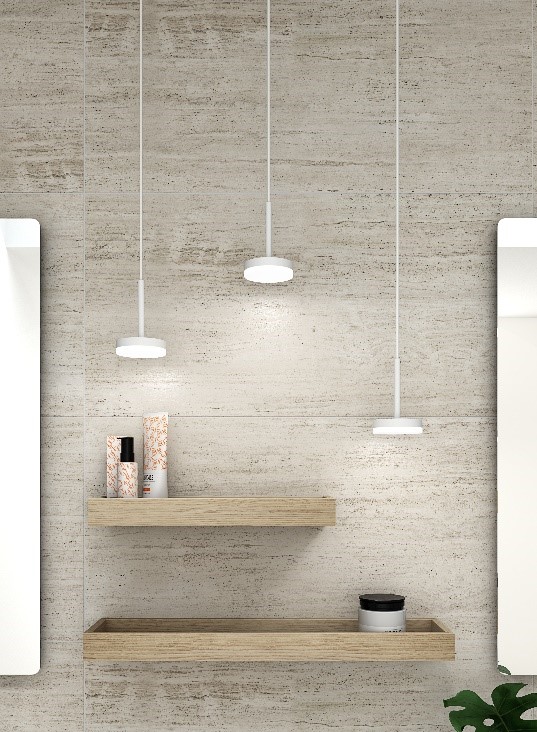 Creating the perfect atmosphere with your lighting is key to really relax and unwind. Dansani's Jupiter hanging lights are a great choice when wishing to emphasise the ambience in your bathroom, with the ability to adjust the brightness of fixtures depending on your mood.
The simplistic yet quirky wall-hung design of this fixture further enhances its novelty feel, creating that ultimate hotel room vibe.
To continue with the minimalist design, we love the BAGNODESIGN M-Line Basin Mixer which is available in a variety of shades. We particularly love the brushed copper finish for its versatility, and its ability to compliment almost any interior.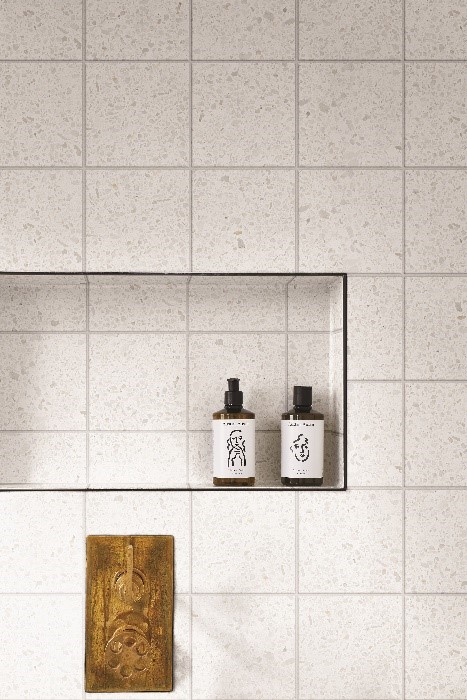 Looking for the perfect neutral tile for your spa bathroom? Try Ca' Pietra's Modella porcelain tiles, which come in a stunning satin finish for a premium effect.
The Modella tile comes in a choice of several colours, but our favourite is this soft pearl shade which brightens up any space, with a clean crisp look.
Want to create your own spa-inspired bathroom? Visit our showroom in Cheadle or contact us today on 0161 485 1373.