All About the Shine: the Mosaic Glass Tile Trend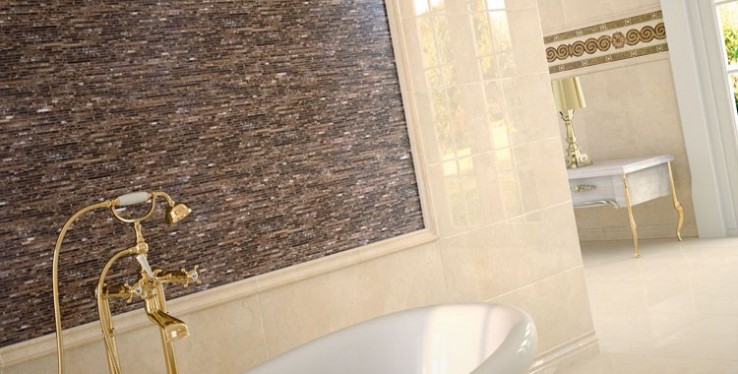 When it comes to injecting a little sparkle into your home, glass is an unbeatable material. It adds shape and interest without cluttering the space, and helps to reflect and bounce light in dark areas.
Just as glass ornaments and cut glass have always been popular in a domestic setting, we're now seeing mosaic glass tiles gain traction as an interior designer's secret weapon. The mosaic has always been a stylish alternative to flat tiles, and glass just makes it even more appealing to the eye.
The secret to the glass tile is its formation: the mosaic combines dozens of tiny tiles in one piece. This allows each tile to bounce light over thousands of tiny ridges, adding crystalline qualities to areas that were previously plain and mundane.
Where to Use Glass Tiles
Mosaic glass tiles can be used in practically any area of the home, providing you choose your tiles according to the area you're working on. Floor tiles in a bathroom must be chosen specifically for the purpose, to avoid slips and cracks. You can get away with more sheen on the walls, if that's your desired finish.
In your bathroom, look for right-angled mosaics in white that create a dappled, clean look on the walls. These tiles instantly give a bathroom the feel of a spa; pale glass or bluish mosaics look fresh and aquamarine on the wall, while darker glass gives the bathroom the feel of a starry night sky.
Pay attention to the normal rules of tiling in small areas: use horizontals to elongate your walls, or consider running tiles across diagonals to add interest. Mosaic glass tiles can contain square or rectangular pieces; the latter can help to stretch a small space.
Colour and Contrast
There are thousands of patterns and variations in mosaic glass tiles, from square and rectangular, orderly patterns to small rectangles or larger brick shapes.
Black glass tiles give a kitchen a splash of jewelled glamour, and you can opt for solid hues or a checkerboard effect. We like earthy black mosaic tiles that combine darker shades of brown with blackened hues and the occasional oyster white tile.
Remember to consider the location of the tiles when planning out the room. Mosaics are perfect for tight spaces because they are easy to cut around obstacles. This makes them contemporary and practical, maintaining clean silhouettes while making the most of natural and artificial light.
Specialist Advice
Real Stone and Tile are experts in contemporary tiling, and we've helped hundreds of customers to use mosaic glass tiles to enhance their homes. Whether you want classic neutral glass colours, or a splash of pink, green or blue, the versatility of the mosaic means there are almost unlimited options.
For more advice and information, call into our showroom for a chat, or pick up the phone and speak to one of our advisors. We'll help you to choose glass mosaic tiles that enhance your existing décor, helping you to transform your home for an extremely reasonable cost.