Choosing the Right Tiles For a Small Bathroom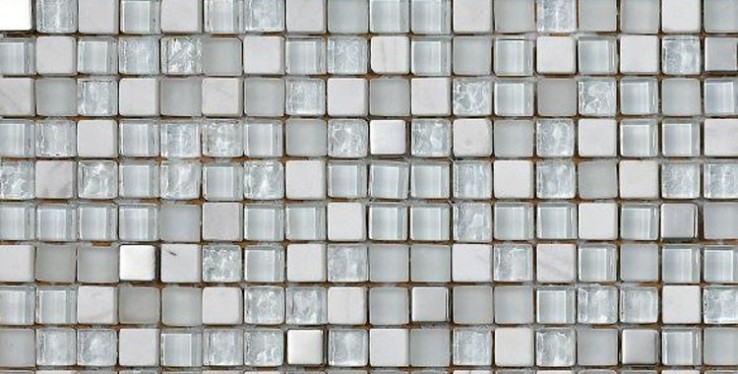 When you're designing a new bathroom, there's no need to feel restricted if the room is relatively small. Bathrooms are all about flow: you can achieve a beautiful, functional and pleasing result if you don't have much space to work with. The key is to decorate the bathroom appropriately, drawing the eye up and out. The tiles you use are a big factor in creating the illusion of space.
With so many tiles to choose from, it's difficult to imagine how each one will affect the way the room feels. Bathroom catalogues rarely show the small sized bathrooms that most UK homes have, so it's hard to get a true impression of how they'll look. Follow these basic principles, and you can make a small bathroom look comfortable and spacious.
The golden rules of tiling a bathroom
There are two things to bear in mind when you tile a bathroom.
Firstly, consider the size of the tile. In a small bathroom, we advise using small tiles that make the space look larger. Mosaic styles give the room a wonderful hotel room effect, and they come on large sheets so you don't have to apply them individually.
There's a practical reason to choose small tiles, too; it's much easier to work around your fixtures and fittings when you're not cutting every tile to shape. If you want large tiles in the shower, switch to smaller ones around the sink and toilet to get the best of both worlds.
The second thing to consider is the shape of the tiles compared to the shape of the room. If you have a small bathroom with high ceilings, a horizontal 'metro' shape will elongate the walls and help to bring the room into proportion. Try holding a few tiles horizontally and diagonally to see how the positioning affects the feel of the room.
Get your colours right
Generally speaking, small bathrooms have small windows. Dark colours will make the room look dingy and can harbour dirt in the corners. We normally recommend that you stick to light coloured tiles, since they help to reflect the light. Look at textured and glossy tiles, in ceramic and porcelain; consider how they'll change the way the light bounces.
Neutral is fine too, as long as the colour is pale. Make sure you have a large mirror opposite the window to bring some light into the corners.
More ways to improve the space
Our customers have come up with some other ideas to maximise space in their bathroom. Here are some of the best tips we've had:
If your door opens inwards, flip it around. An outwards-opening door gives you more room to move in and out
Try downsizing to a three-quarter bath, rather than a traditional full size bath, so you have more storage space
Utilise wall space above the mirror for storage, and fit a floating sink so you can store items underneath
Reclaim space behind the door by fitting a towel rail and pockets for cosmetics
Small bathrooms need not be a hindrance; if tiled well, they can be a real asset to the home. If you need advice on choosing the right tile for your project, snap a few photos and let our experts advise you.