Cleaning tips for designer stone baths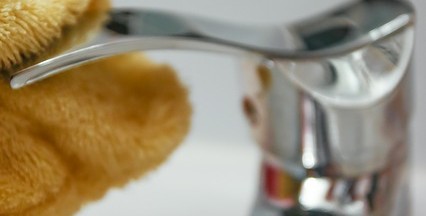 If you've invested in designer stone baths for your home's bathrooms and en suites, you'll probably want to make sure you've taken in any commonsense cleaning tips given to you.
Actually stone is a very hard-wearing natural material, and with the glazes and other finishes used today, it shouldn't be hard to keep your designer stone baths looking at their best.
Good care means adopting regular light cleaning with occasional more detailed maintenance - keeping dirt at bay on an everyday basis and polishing it away if and when it eventually accumulates.
Baths will of course become wet during use, and while nobody is expecting you to fully dry your bath each time you use it, it's sensible to remove any obvious residues.
That can mean wiping away any dirt deposited at the 'high tide' water level, or on the end of the bath where your feet rested, but it can also include soap residue from hair products, body wash and even bubble bath.
Pay particular attention if you have children, as there may be more dirt deposited into the water, and more chance of bubbles.
For most days, a quick wipe over with a clean cloth and clean water will get rid of deposits before they have a chance to dry on to the stonework.
If a visible layer has built up on any surface of the bath, a gentle cleaning fluid can help - check the label before deciding what to use, and avoid anything too abrasive.
Avoid strong chemicals and harsh solvents such as paint remover, and try to avoid direct heat too - don't be tempted to leave your hair straighteners lying on the edge of the bath once you've used them.
Designer stone baths are aesthetically stunning as part of an overall bathroom scheme, but they're still very durable too - just be sure to treat them right, and they'll look good for years to come.