FAQs: Using tiles in the kitchen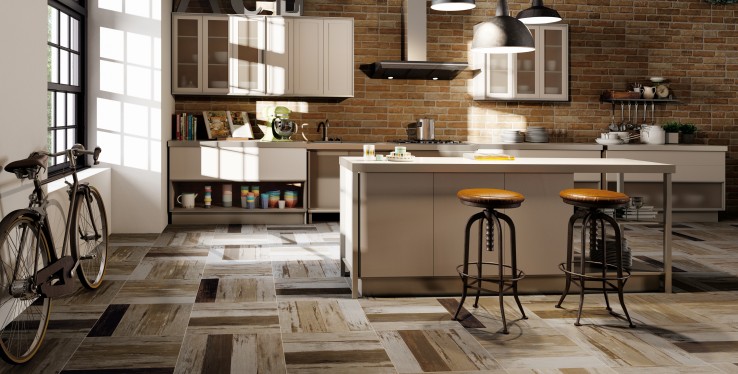 The kitchen is possibly the most frequently used room in the house; therefore the flooring and walls should be practical and hardwearing. Investing in tiles is a commitment so we want our customers to be sure that they feel confident with their decision. To help with this we have put together some of the commonly asked questions about tiling a kitchen.
Should I use tiles on the walls?
Painted and wallpapered walls can be difficult to clean, particularly when subjected to splashes and spillages. Tiles on the other hand, are the perfect addition to any kitchen to protect the area around hobs and sinks, though they don't just have to be limited to there.
Which kind of tile should I use on the wall?
With a variety of different styles and finishes to choose from, many have both advantages and disadvantages when it comes to being used on the kitchen walls.
Glass tiles, usually mosaic create a great feature and reflect light allowing the room to appear brighter and bigger. Their material means that they don't absorb water or hold stains, also making them a practical option. However, the practicality and beauty of these tiles does come at a price, they tend to be a more expensive option and are delicate when installing.
Natural stone tiles work well with both a classic or contemporary style and with many different options to choose from there will be sure to be one to suit. On the other hand, the nature of the tiles does mean that they are more prone to scratches and stains and may not be as practical for a splash back.
A large range of different finishes and patterns make ceramic tiles a popular choice. Their resistance to stains and convenience to clean also make them a great option for protecting walls from splashes.
What kind of tile should I put on my kitchen floor?
Floor tiles are a great investment, not only are they hard wearing but they can also add value to your home. In the kitchen the floor is more prone to spillages making the surface slippery. Opting for a natural stone tile with a slight texture is better for avoiding any injuries; just remember to ensure that the tiles are correctly sealed to avoid any liquid being absorbed and prevent staining.
You may have your heart set on the beautiful natural effect that wood flooring can give, but the practicalities of it in a kitchen throw that option out of the window. Why not opt for wood-effect tiles, they appear realistic and are much easier to maintain, they also come at a fraction of the price.
A common misconception is that larger tiles can't be used in smaller rooms. However, if you're limited on space a large format tile can help to create the illusion of a larger area, and a bonus is there is less grout to deal with so maintenance is minimal.
What colours work best in a kitchen?
Before selecting your favourite tile, consider the overall colour scheme of the space and how these will fit in. Kitchen units and work tops are a long term feature in the room much like the tiles, so ensuring these work well together is a must.
There is no right or wrong answer when thinking about the use of colour in the kitchen. Both bold shades and neutral tones will allow the room to appear brighter whilst darker tones will create a beautiful contrast, particularly if used on the floor. If you feel that your kitchen is going to look dull why not use patterned or mosaic wall tiles to create a feature.
We hope that this blog helps to answer some questions about your kitchen project. For more information and advice visit the Cheshire showroom, or contact the Real Stone & Tile expert team.