Get the fresh out of the shower feeling with Geberit's Shower Toilet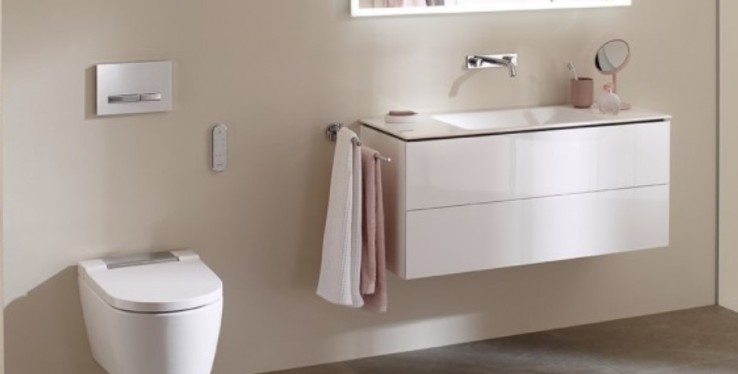 Geberit has been around since 1874 and has a long tradition of quality, reliability and innovation.
In 1978, Geberit launched the first Geberit WC with spray functionality and while the reaction to the shower toilet innovation was somewhat muted in Europe, it soon became commonplace in half of all Japanese households.
We are big fans of the Geberit AquaClean shower toilet here at Real Stone & Tile, and are delighted to have one in the showroom (we love showing our customers how it works!)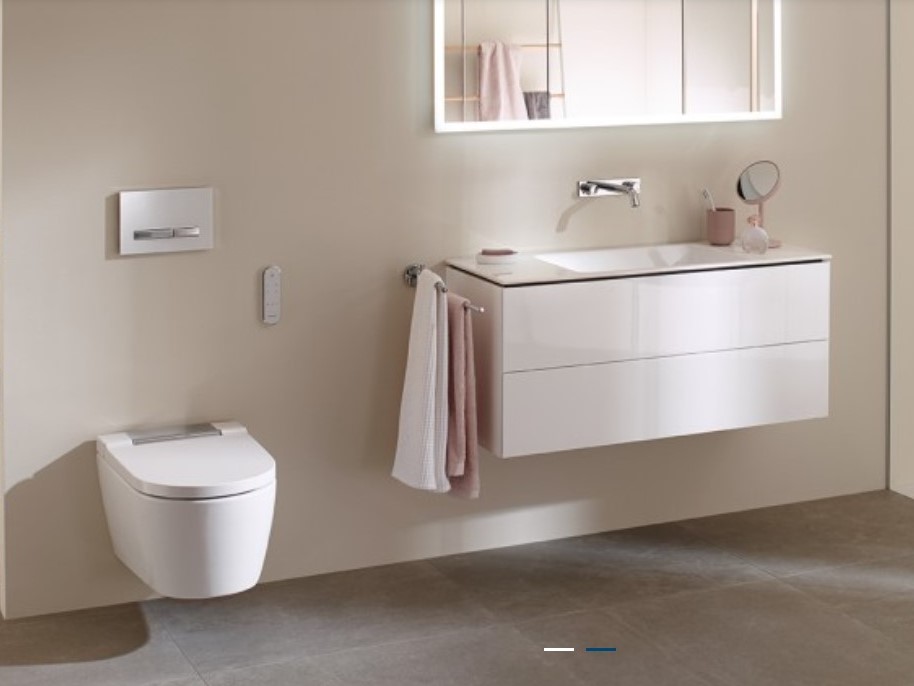 Advantages of a shower toilet
Cleaning with warm water is more gentle and more thorough than with toilet paper and is ideal for cleaning the sensitive intimate area. Using a shower toilet will make you feel clean and refreshed and anyone who has experienced this fresh, clean feeling will never want to go without it again!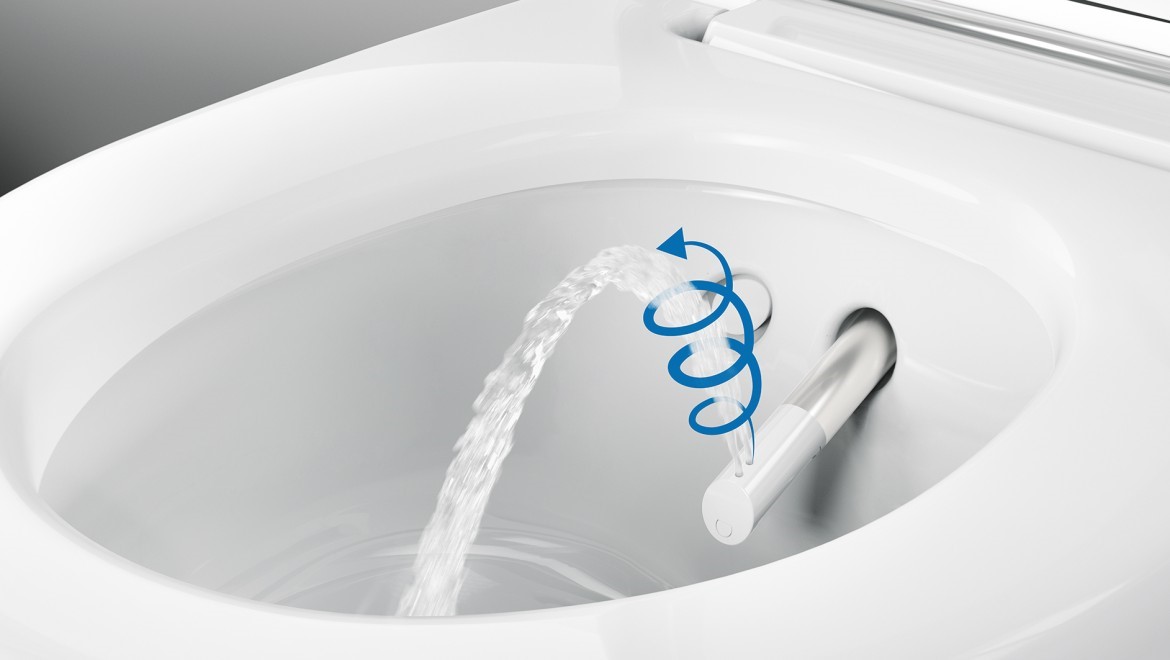 Benefits of a Geberit AquaClean shower toilet
You will feel clean and fresh after every visit to the toilet.
Your well-being and self-confidence will be boosted by this feeling of freshness.
Your personal hygiene is the shower toilet's top priority.
You will avoid skin irritations and itching that can occur when using conventional toilet paper
You will be using a real premium product that has been perfectly manufactured and is made of top-quality materials.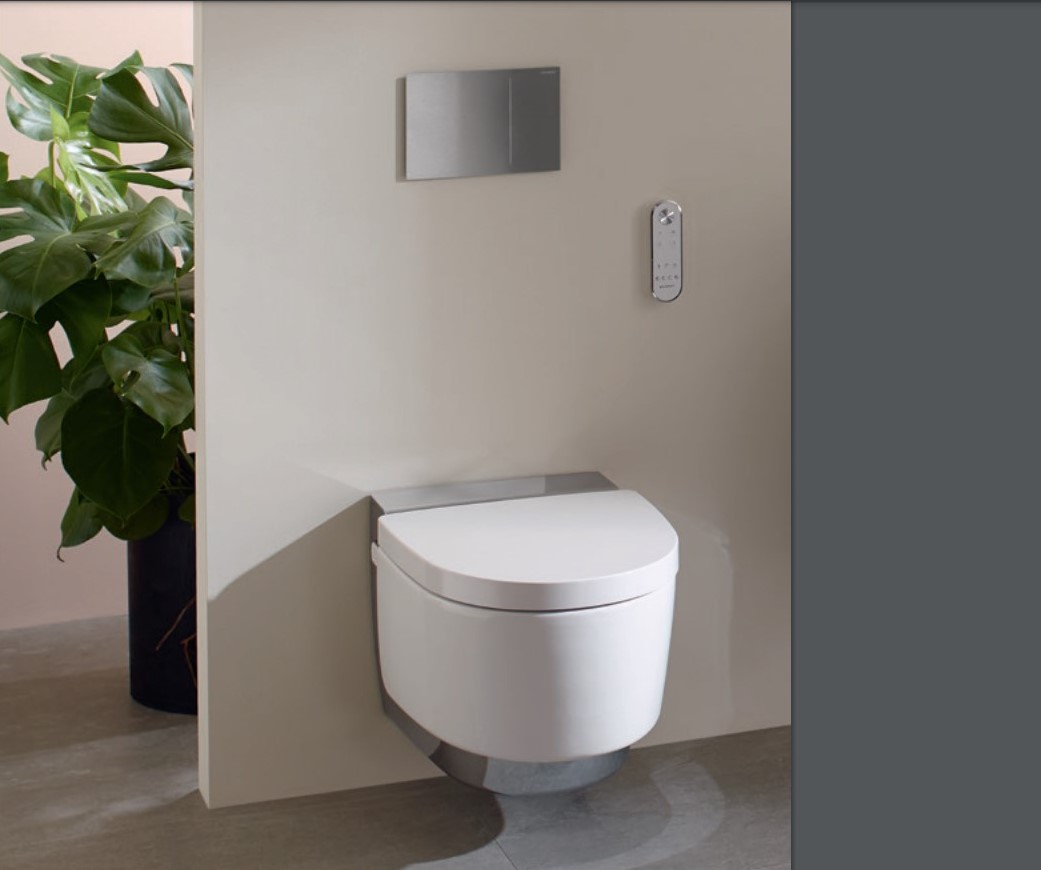 Comfort Functions
Perfect cleanliness. The oscillation function gently moves the spray arm back and forth to ensure the feeling of exceptional cleanliness. Both the position of the spray arm and intensity of the spray can be personalised.
Clean and Quiet flushing. The innovative TurboFlush technology is based on a flow optimised, rimless ceramic pan which enables extremely quiet and thorough flushing. And since the TurboFlush technology rinses the toilet cleaner than a normal flush, you almost never have to clean further.
Gentle Personal Hygiene. With an additional shower spray, the gentle lady shower allows you to look after your personal hygiene using pure water.
Gentle Drying. For soft, gentle drying, the warm air dryer is the perfect solution and features five individually adjustable temperature settings.
No Unpleasant Odours. The odour extraction unit removes unpleasant odours as the system starts automatically upon sitting.
Soft Night-Time Illumination. Activated by the proximity sensor, a discreet LED light in seven light colours and five brightness levels assists orientation at night.
Superior Comfort. The ergonomically optimised toilet seat, made of high-quality thermoset, is fitted with integrated heating.
Consistently Clean. The automatic pre- and post-cleaning process ensures that the spray arm is truly clean. The spray arm is automatically rinsed with fresh water before and after each use.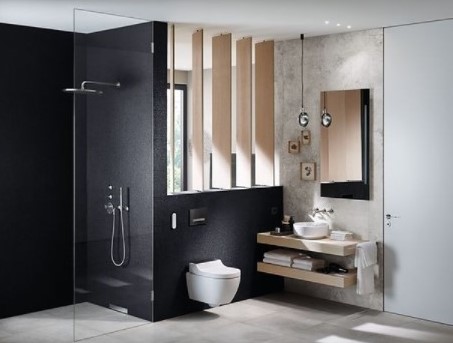 Once you have experienced that clean, fresh feeling that a Geberit AquaClean shower toilet provides, you will never want to go without it again! Call into the showroom for a demo on this high tech shower toilet!