How to achieve an on-trend, stylish interior using stone-effect tiles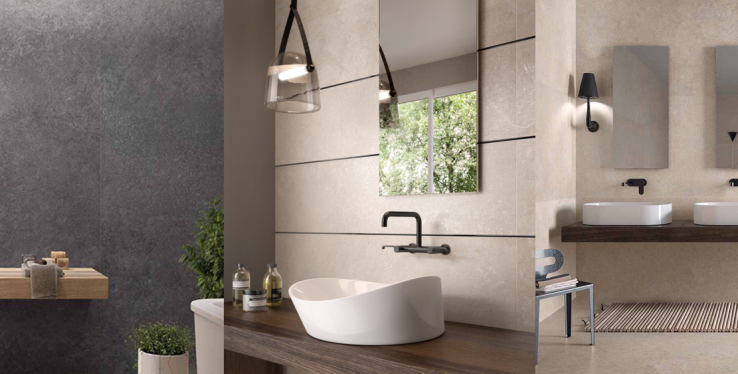 In recent years, there has been a significant increase in homeowners opting for stone-effect tiles, over the real thing when renovating their properties.
The excellent, porcelain tiling solution is the perfect cost-effective alternative to using real stone, as the beautiful, high-quality look isn't compromised and the required maintenance is kept to a minimum.
Unlike stone, the porcelain tiles are often tough, and lightweight, meaning that they can be placed in any area of the home. We have found this often leaves customers overwhelmed, unsure on how to successfully incorporate stone-effect tiles into their designs.
In this blog, however, we aim to show you how stone-effect tiles can complement current trends, providing you with ultimate inspiration for your next renovation!
The industrial trend is making its way into homes, restaurants and hotels alike. The popular style is all about embracing raw, rustic design, a contrast to the traditional white, gloss look that has been a previous style staple in many homes. Stone-effect tiles are perfect for the industrial trend due to their earthy, stylish appearance, representing an element of effortlessness and ease.
If you are daring to go bold, pairing lighter bathroom fittings with dark stone-effect tiles will create an edgy, on-trend space that enables the colour to really stand out. The dark tones will act as a focal point, drawing the eye to the modern tile. This look is perfect for those seeking maximum style with minimum effort.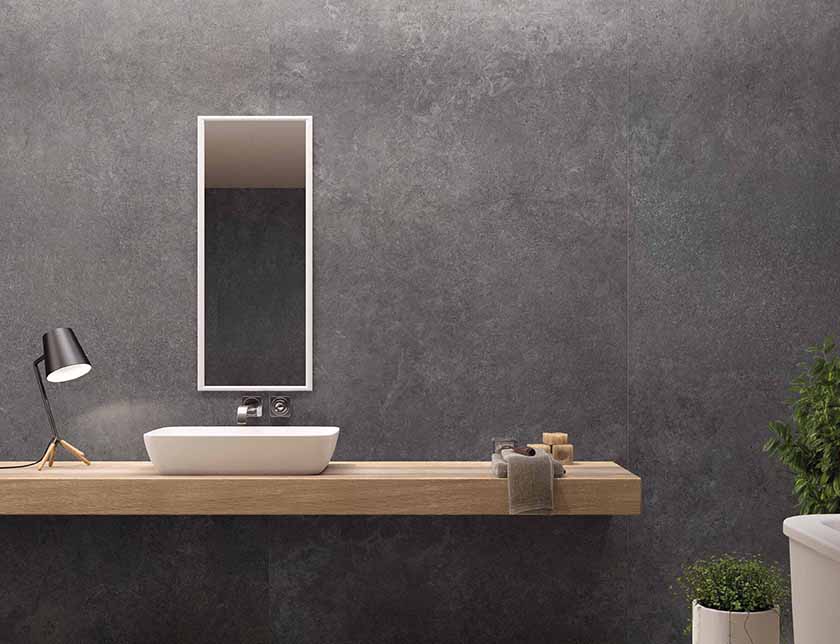 Flaviker STILL NO_W COAL
Large-format tiles complement both contemporary and traditional settings and have consequently become a popular tile choice for home-owners over the years. Ranging from an impressive 1800 x 800m, the large porcelain tiles are perfect for creating a sense of space and are often favoured for their ability to make a space seem significantly larger than it actually is. Unlike real stone, the porcelain tiles have an easier installation process and require minimum grout maintenance, making them the ideal alternative for those seeking an on-trend look with little upkeep.
Both practical and elegant, large format tiles can create a timeless feel in any room, the variety of shades available mean the tiles can be incorporated into a range of different interior designs. Consider creating a modern look with deep charcoal tones and black accessories, or opt for a fresh and bright feel with a lighter stone tile and brushed chrome finishes.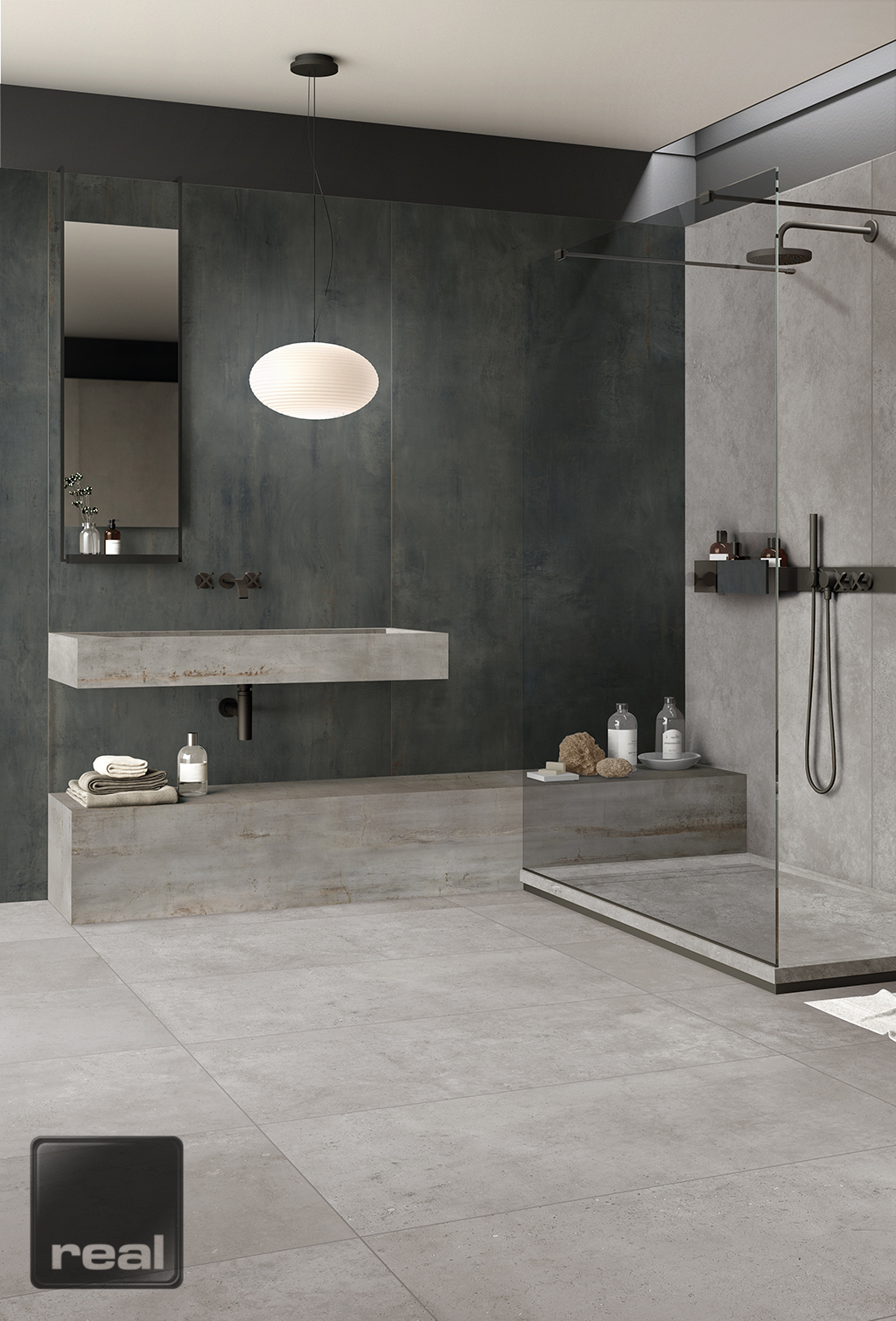 Night, Silver + Hyper Silver Large Format Tiles

Another trend which has been slowly growing throughout 2019 is texture. This year we saw customers switching things up, stepping away from the classic smooth to become more adventurous with a variety of texture and tones.
Adding texture into your interiors is a great way of accentuating your space and adding some real character to your home. You can create eye-catching feature walls, stylish bathroom tiling or unique kitchen splashbacks with these adventurous tiles.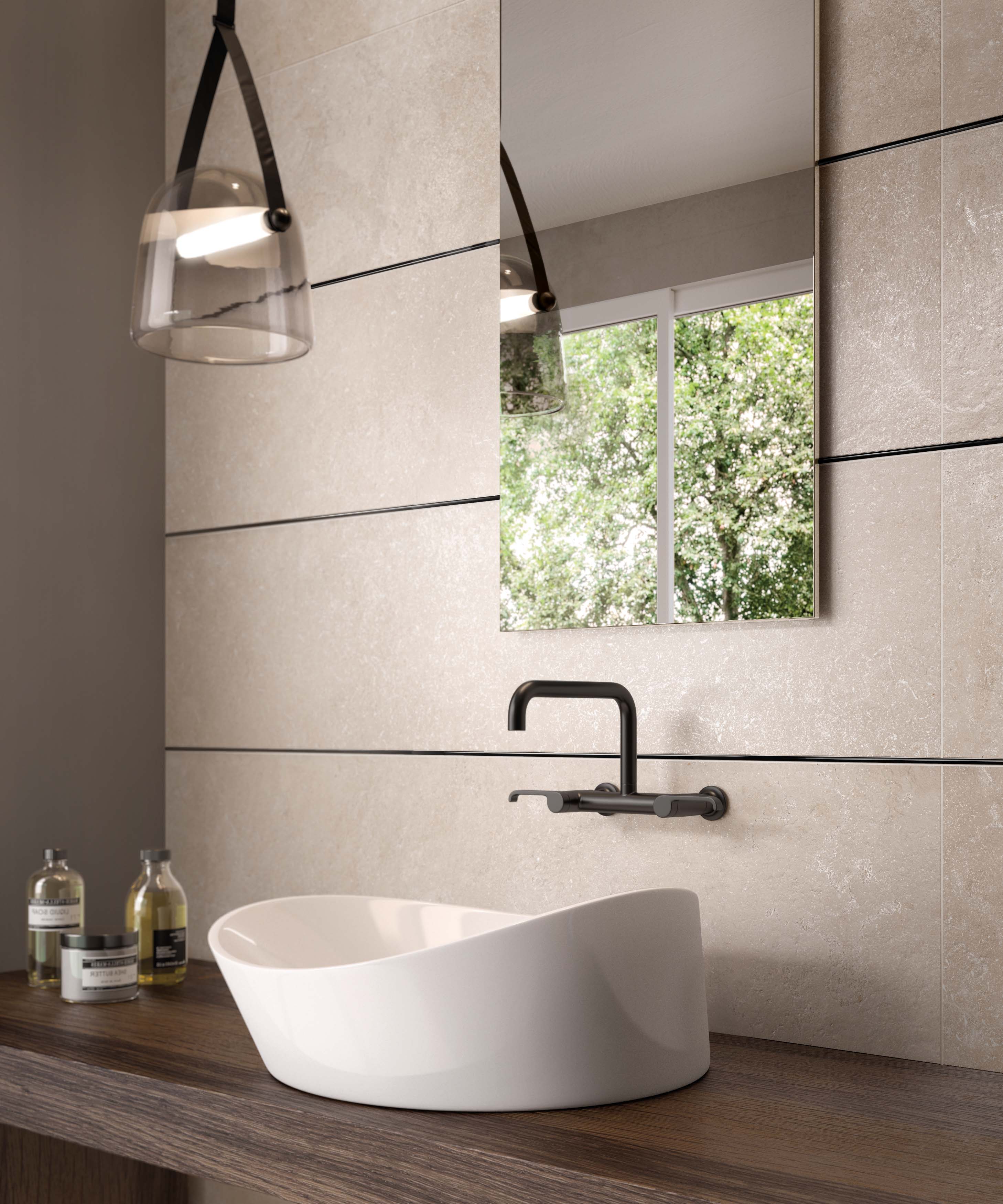 W_All Stone Beige + Matita Alluminio Black

As you can see, the way in which you incorporate stone-effect tiles is all down to personal preference. Whether you choose to introduce the tiles subtly through traditional soft designs or make a bold statement with feature walls in an industrial-style space, the possibilities are endless.