How to Introduce Patterned Tiles Within Your Home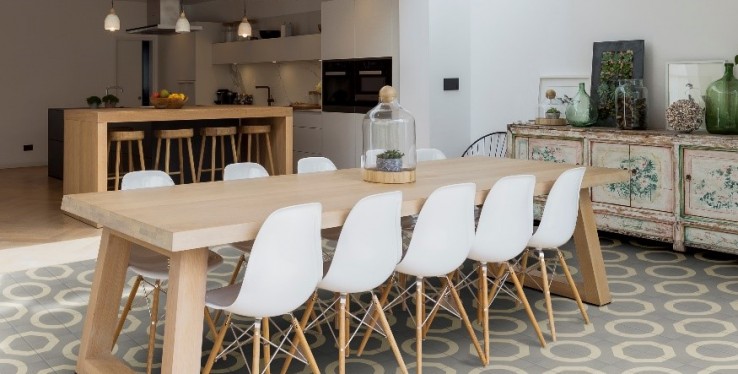 Patterned tiles are appearing all over the home, whether it's in luxurious bathrooms, designer kitchens or on-trend hallways, distinctive tile designs are proving a hit with home-owners in 2019.
In this blog, we explore the different ways to add colour and pattern to your home with tiles, from big and bold to soft and subtle, there is a design to suit every one.
Many customers choose to design a feature wall as it allows for a splash of personality without going overboard or putting off potential house buyers.
Bold patterned floor tiles paired with shabby chic, neutral decor is also a much-loved trend, growing in popularity.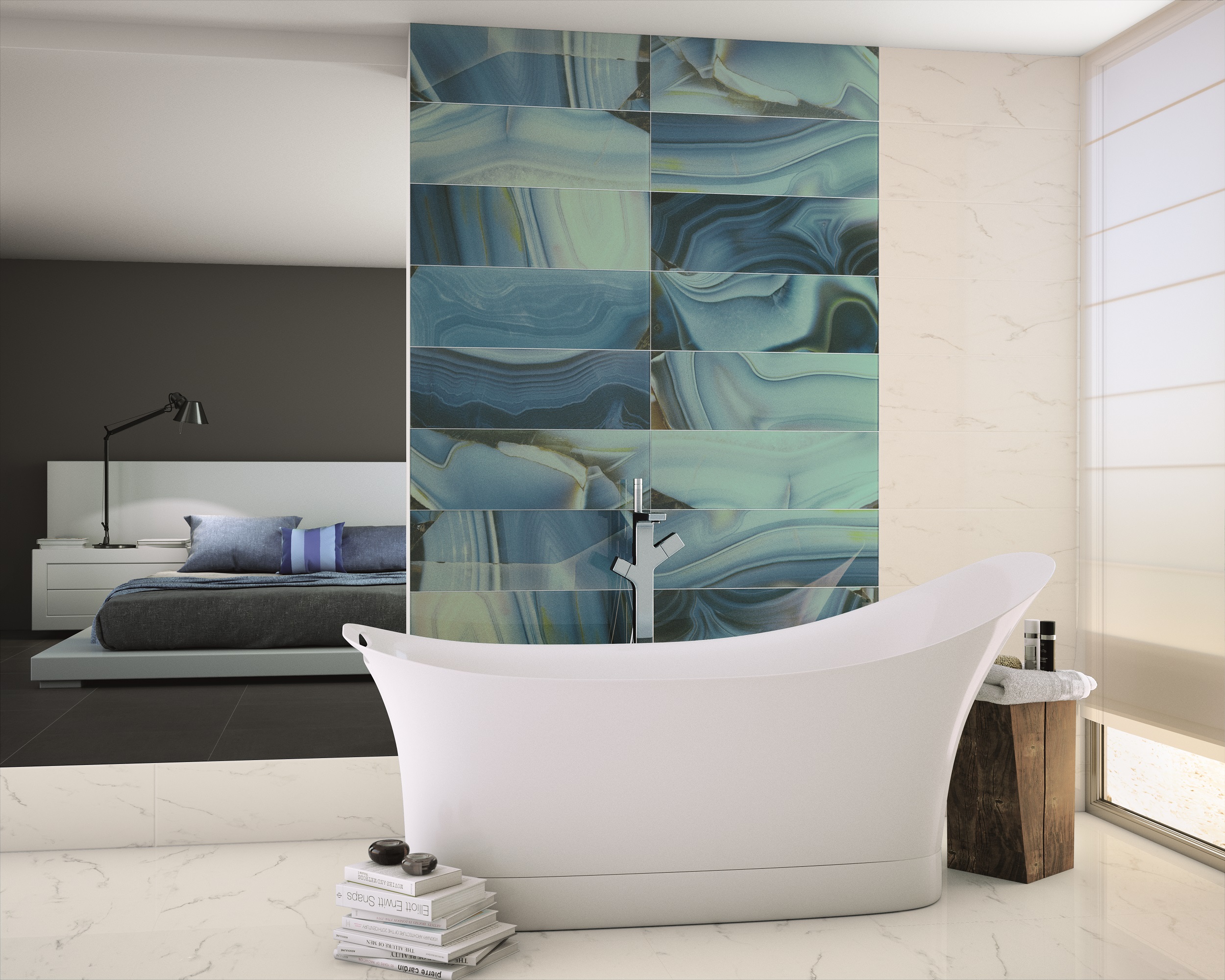 This beautiful statement wall is created with the Aura Agate Glass tile, adding a splash of colour to a neutral room and creating a focal point that draws the eye to the impressive slipper bath.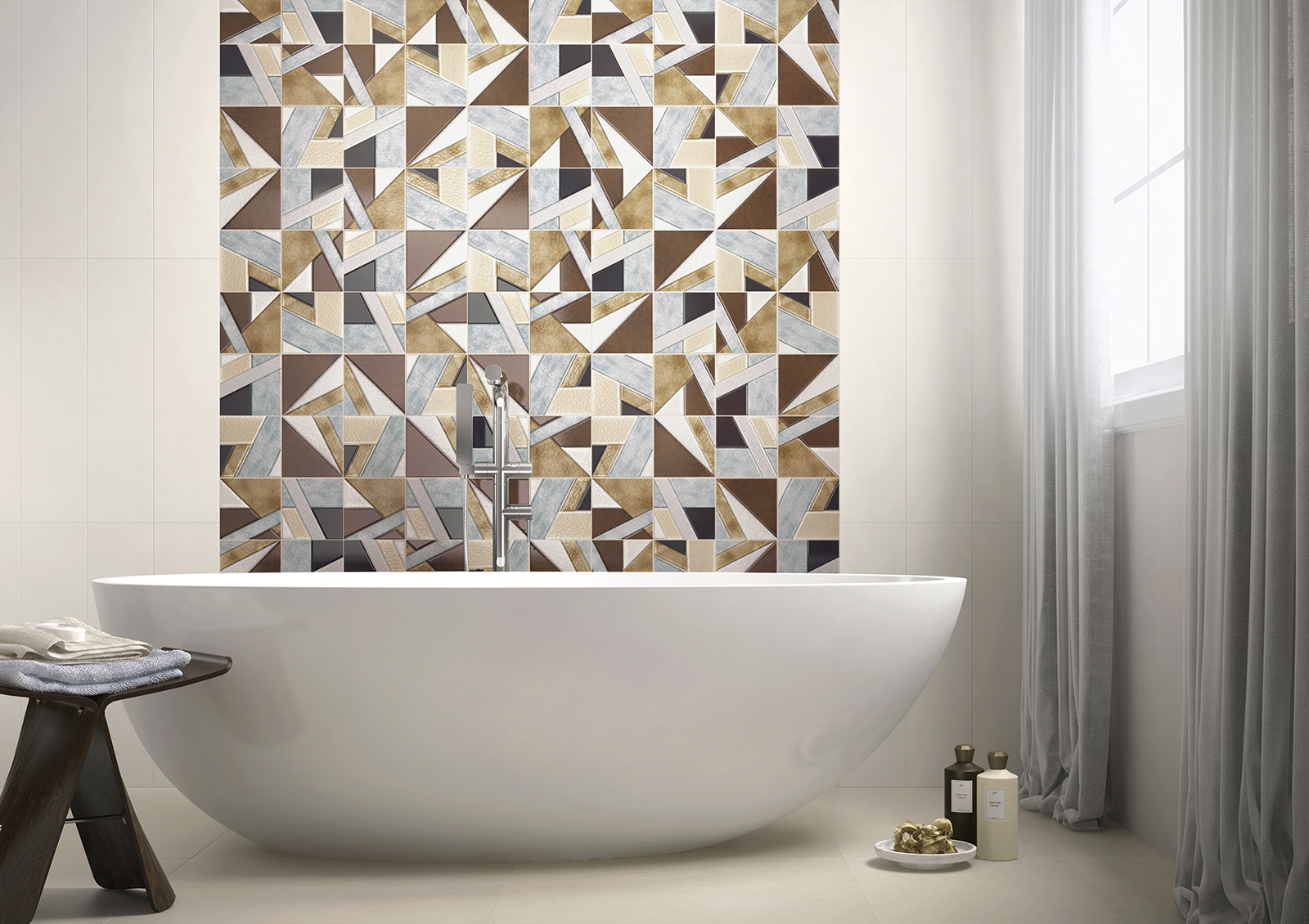 These Manacor patterned tiles offer a more subtle approach when it comes to the colour palette, whilst the design still creates a stylish, on-trend look.
The geometric creates a modern vibe, whilst in contrast the neutral colour of the floor and accessories ensure a tranquil and calm space.
No matter the size or style of your property a feature wall can be incorporated into any room. Depending on personal preference, you might choose to reflect the design of your property within the chosen tiles. For a period property, rustic, wood-effect or natural tiles are still in keeping with your property style, whilst allowing you to put your own design stamp on your home.
Rather than creating a statement wall design, why not consider a patterned tile for your floor. The Terrazzo collection features geometric tiles that are perfect for achieving this look.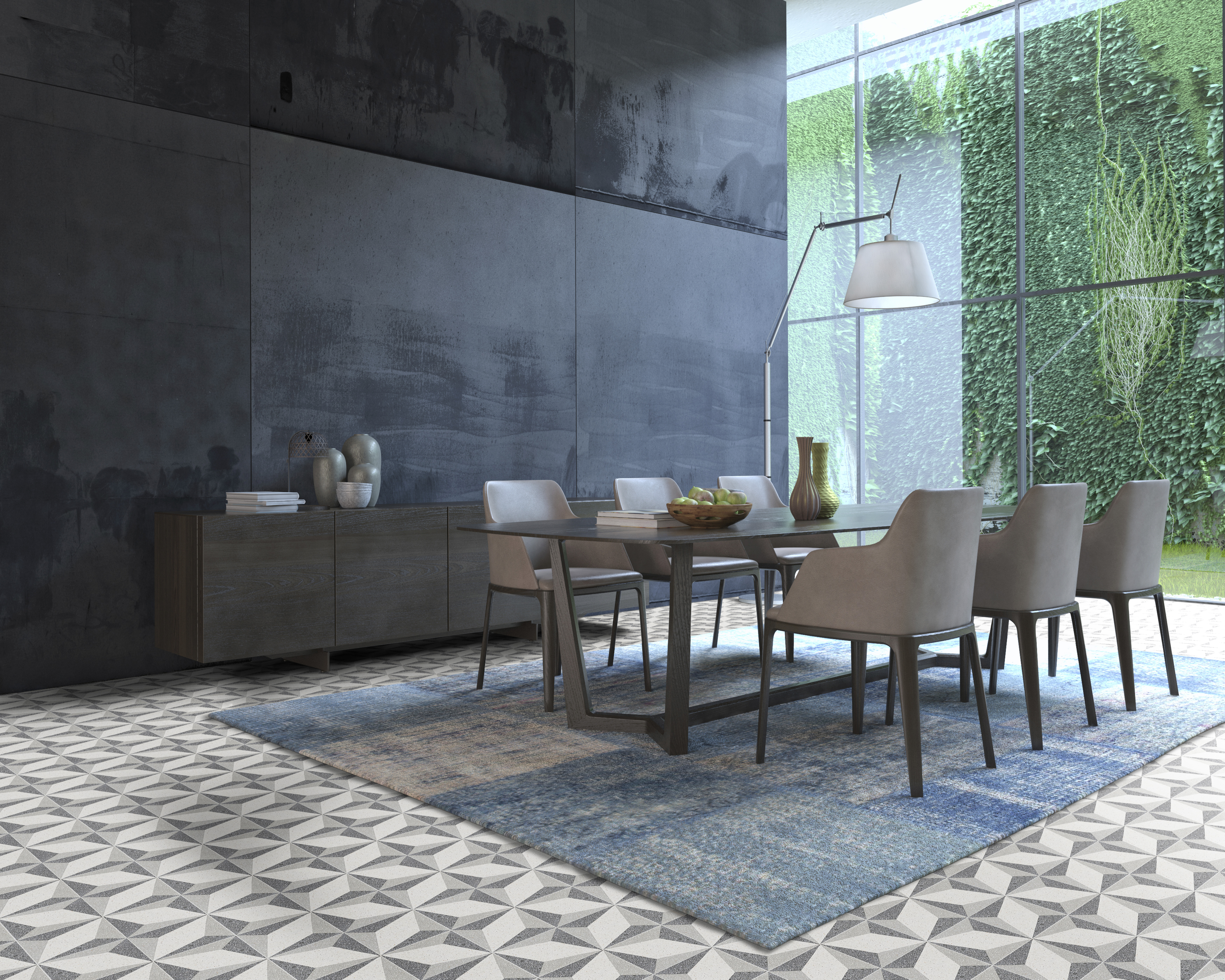 The Porta Romana tiles create a modern feel, perfect for opening up the space.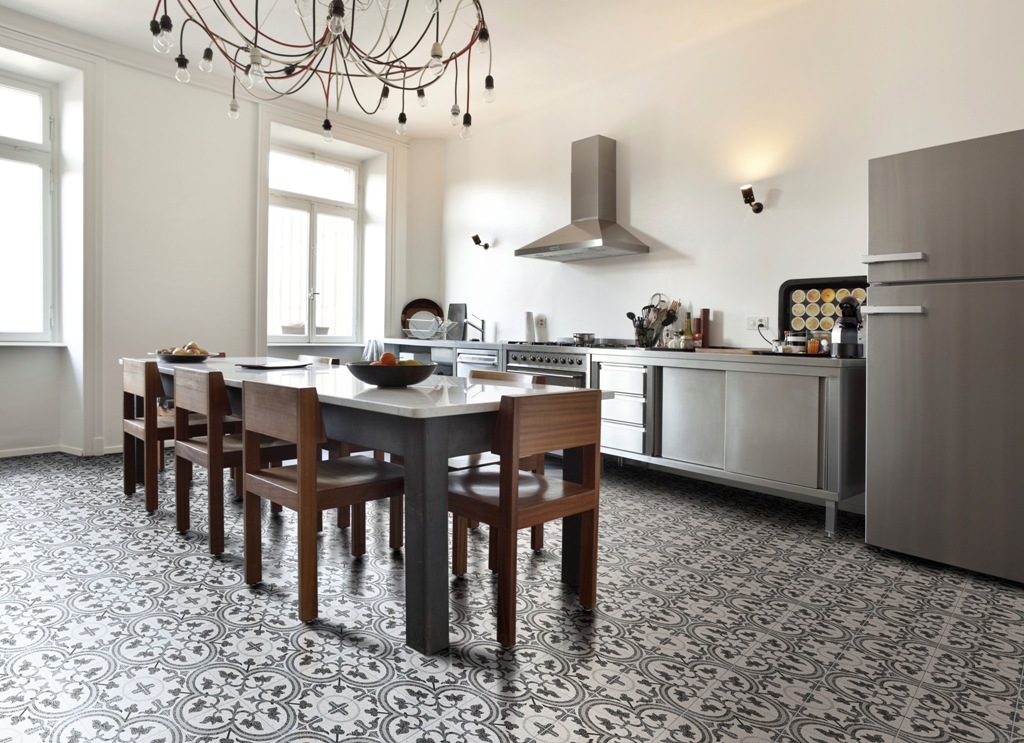 The Firenze tiles create a more traditional vibe, with the design appearing stylish yet elegant. These tiles are sure to make a statement within your home.
Don't be put off by patterned tiles if a bold design isn't for you, we also stock tiles with an understated, softer look. These tiles can be used to break up a neutral wall, allowing you to stay on trend and add an element of sophistication to any room. The Dune collection features a 'Minimal Chic' range, which is ideal for those seeking the effortless approach and a cooler colour palette.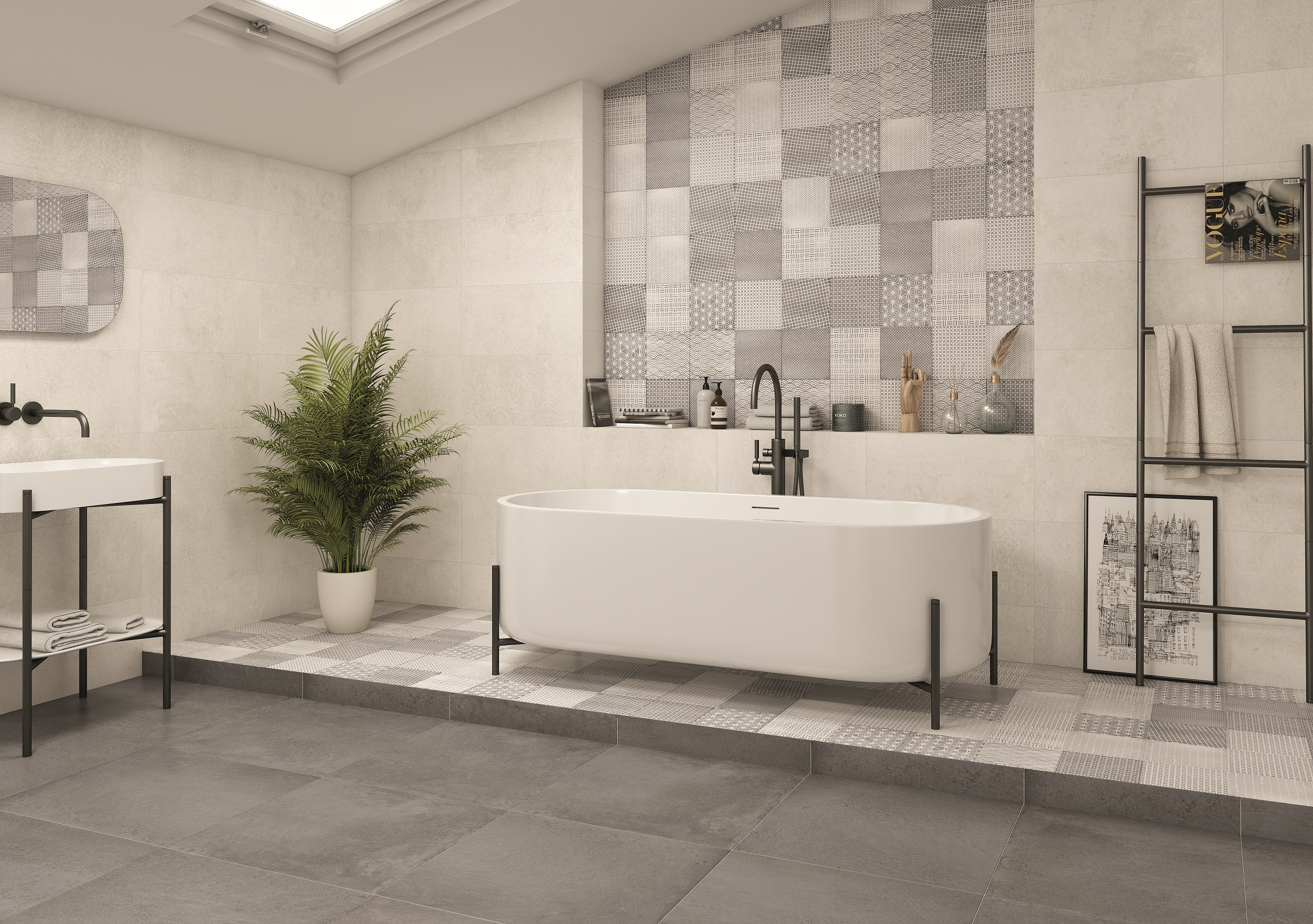 The soft patterned design on the Gego tile allows for a touch of without appearing too overstated.

Mosaic designs add a subtle dash of colour and pattern to a room, and are often used on kitchen or bathroom splashbacks to provide an accent colour to a room. Due to the size of the tile the design can offer an even softer approach for those seeking a more understated look.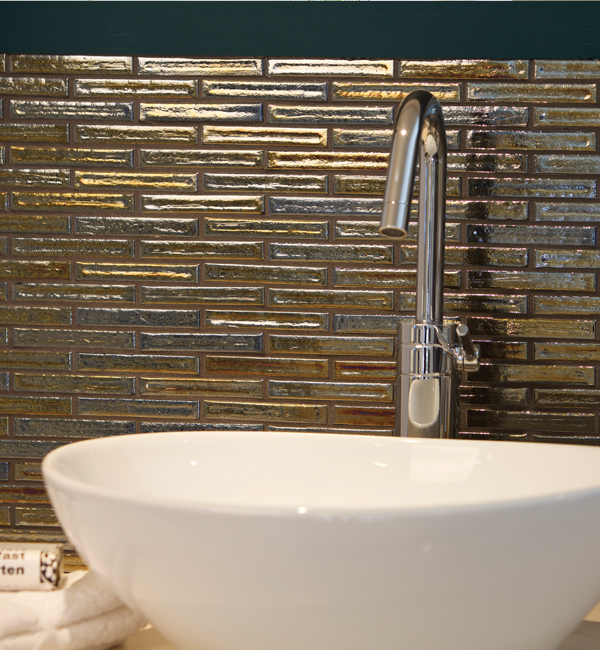 The Shard mosaic tile is an elegant and sophisticated choice for your bathroom splashback, adding a touch of glamour, without over powering the overall look and feel of your space.
Patterned tiles have endless design opportunities, helping home owners to really make their properties their own. Here at Real Stone & Tile, we offer a huge range of patterned tile, making sure that you leave with a design you love.
Pop into our Cheadle showroom or give us a call on 0161 485 1373 for tile inspiration and expert advice.