Small bathroom ideas with Dansani designs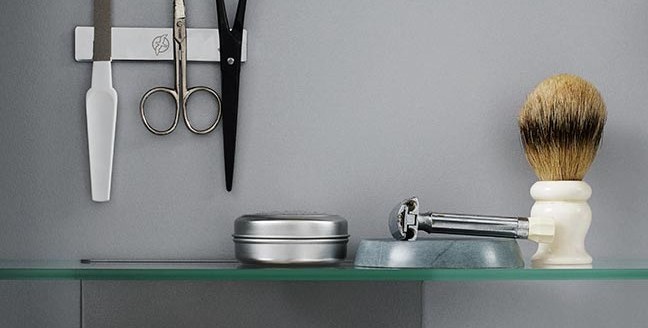 Dansani was established as a one-man business by Thomas Bjerrum in 1983. Back then, he only had one employee and the bathroom furniture production area was limited to 14 m². The year after, the company moved into larger premises and managed to create a stable position within the national market, and now exports to more than 20 European countries.

It is a brand we are very fond of here at Real Stone & Tile, and their philosophy stands on 4 pillars: Design, Functionality, Craftsmanship and Sustainability.
In this blog, we share some excellent ideas about how to create a wonderful small bathroom using products from the Dansani ranges.
Fortunately, even if your bathroom is not big, there are many stunning and unique design options so you don't have to make compromises in that regard.
Choosing the right basin
Choosing the right basin when space is limited is crucial. You don't want the basin to take up too much space, especially when space is at a premium. If you choose a short-projection basin with a deep bowl you get the space to wash your hands properly and handle a forceful flow of water without ending up with water all over the floor.
When choosing your vanity unit, it is recommended to use the maximum wall space available rather than a model that might only be designed to hide the bottle trap or pipework. Even an extra 300 millimetres gives enough room for storage of bulkier bathroom items such as wc rolls and cleaning products.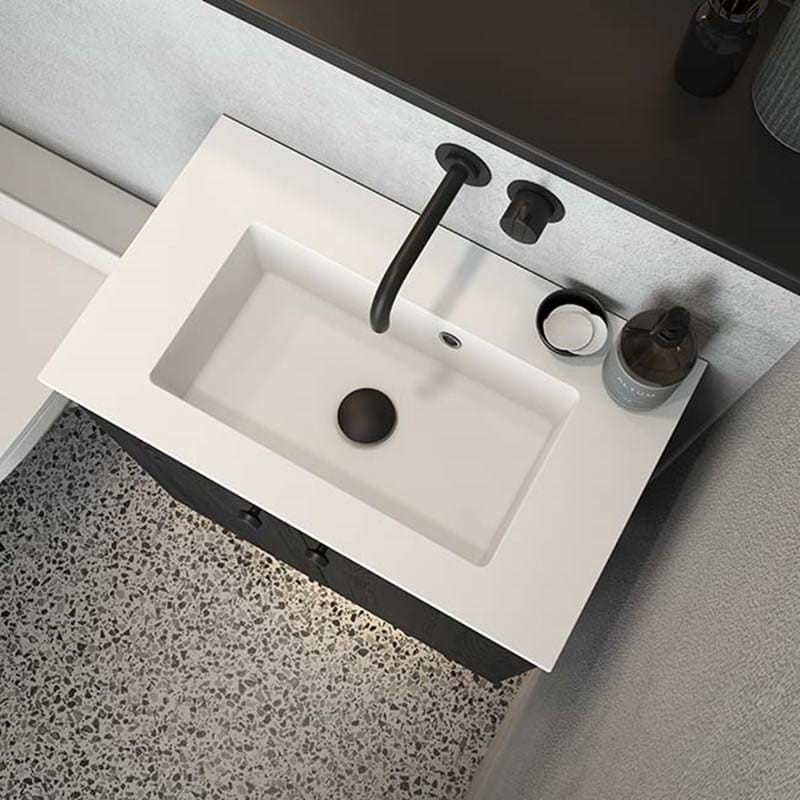 Make space for storage
The area above the toilet is perfect and often not used for putting storage units. Choosing wall units with a slimmer depth will still allow you to get plenty of storage space without the risk of hitting your head when you stand up.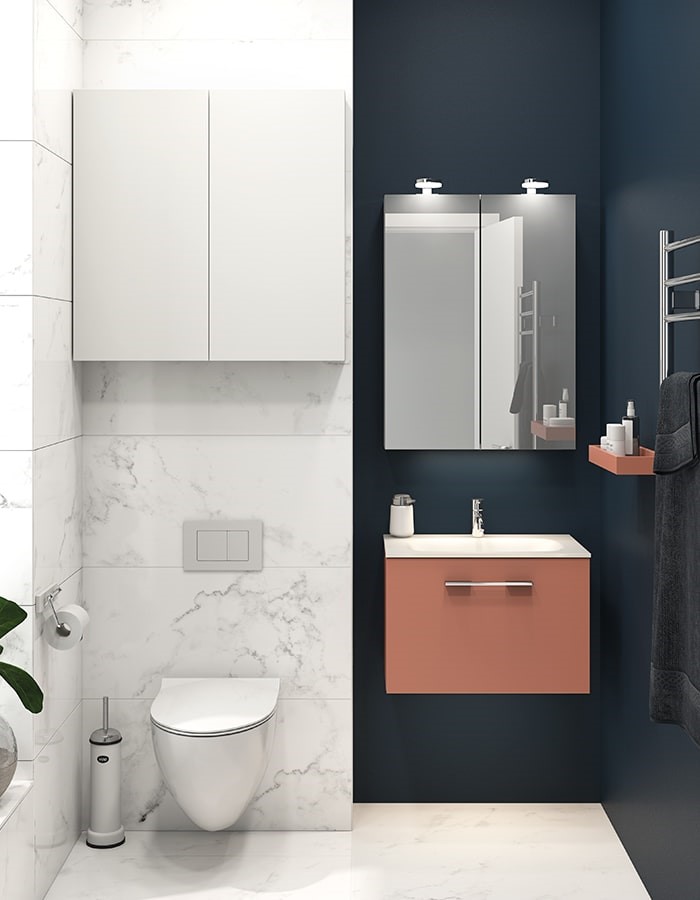 Make full use of the wall space and get extra storage
When you have a small space, it is useful to choose a vanity unit with extra height that makes good use of the wall space under the basin to provide additional storage for things like towels and cleaning products.
If your bathroom is long and narrow, you can choose a smaller basin and make full use of the wall space with a tall unit for additional storage. If your bathroom is very narrow you can place two wall units of slimmer depth on top of each other so that they do not take up much space in the room.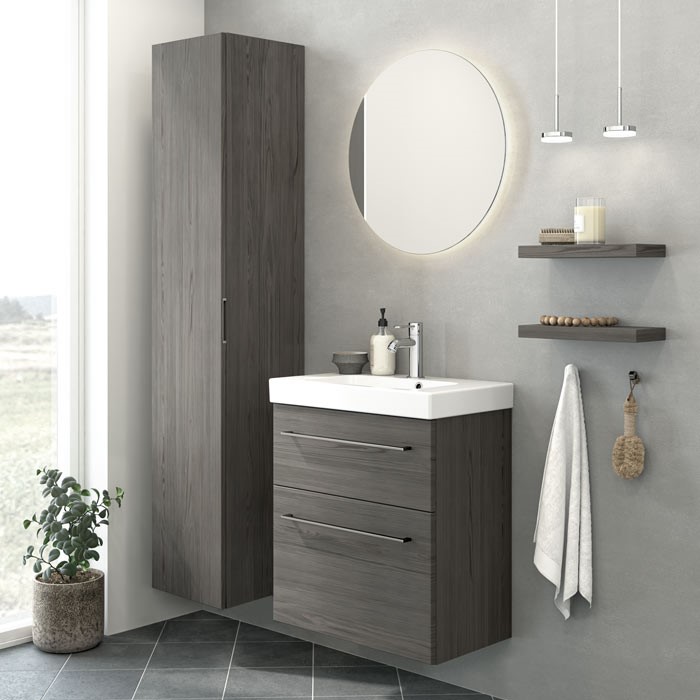 Use the mirror for storage
If you choose a mirror cabinet instead of a mirror you can store all your smaller everyday bathroom items within easy reach. The layout of Dansani's mirror cabinets is fully thought through and for small bathroom ideas. You can choose details such as double-sided mirror doors, magnifying mirrors, integrated lighting, and electric sockets.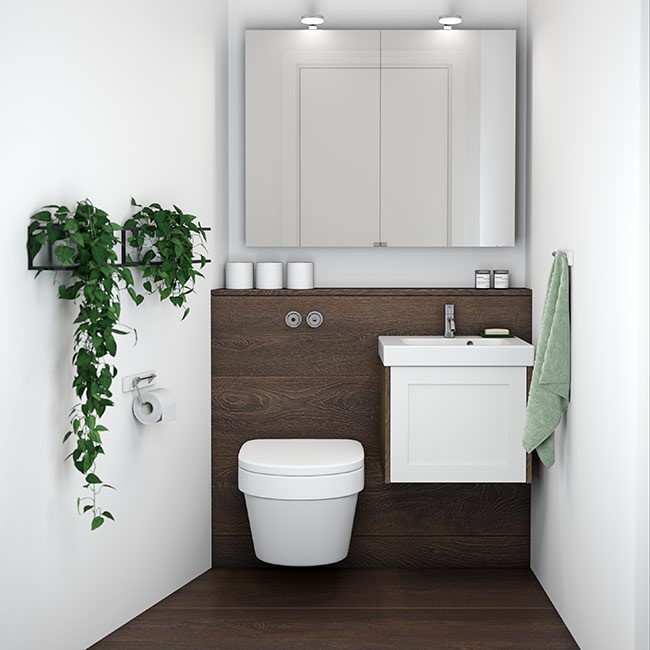 Choosing a shower
Shower enclosures for small bathrooms are a great solution. Dansani has a range of solutions that help avoid having to choose between the limitation of your space in the shower or the wasted space the shower enclosure takes up while not in use.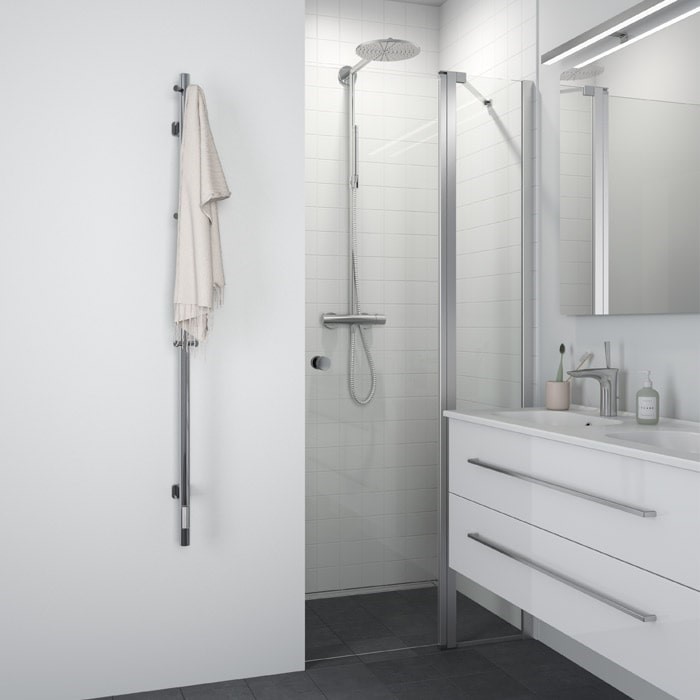 Dansani's different ranges offer smart and functional solutions with many small bathroom ideas, so that you are sure to find a space-saving solution to match your design wishes & expectations. To help achieve your desired bathroom, get in touch with the team at Real Stone & Tile – we look forward to serving you!