Using Outdoor Porcelain Tiles to Create Your Perfect Garden Space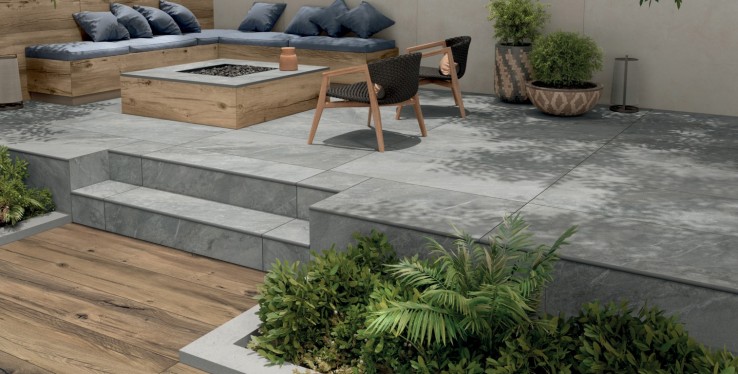 With Summer just around the corner, it's the ideal time to start thinking about updating your outdoor spaces. We want to make the most of the outdoors as it has become increasingly important to us all this past year and one important aspect to consider is your choice of outdoor tiles.
Here at Real Stone & Tile, we know that outdoor tiles are an important design consideration with many homeowners looking to extend their homes into the garden. We have a stunning selection of stylish 20mm porcelain tile options to complement many tastes and themes.
Here, we have listed some of the benefits of using outdoor porcelain tiles:
Strong. Porcelain is extremely strong and can handle heavy foot traffic.
Hard-wearing. Porcelain tiles are long-lasting so they will look fantastic for many years to come and require little maintenance. Unlike natural stone, porcelain tiles do not need to be sealed and can be cleaned easily.
Harsh weather proof. Porcelain is non porous which means it will not be affected by frost or harsh weather conditions.
Fade proof. No matter how much sun and heat exposure they have, the tiles will not change colour.
Flexible uses. Outdoor porcelain tiles can be used on patios, roof terraces, balconies, driveways and around swimming pools.
Modern & stylish. Outdoor porcelain tiles are available in a range of sizes, colours and finishes to suit your style preferences.
Create flow from indoor to outdoor. Matching indoor tiles are also available to enable you to create a seamless link between your indoor and outdoor living spaces.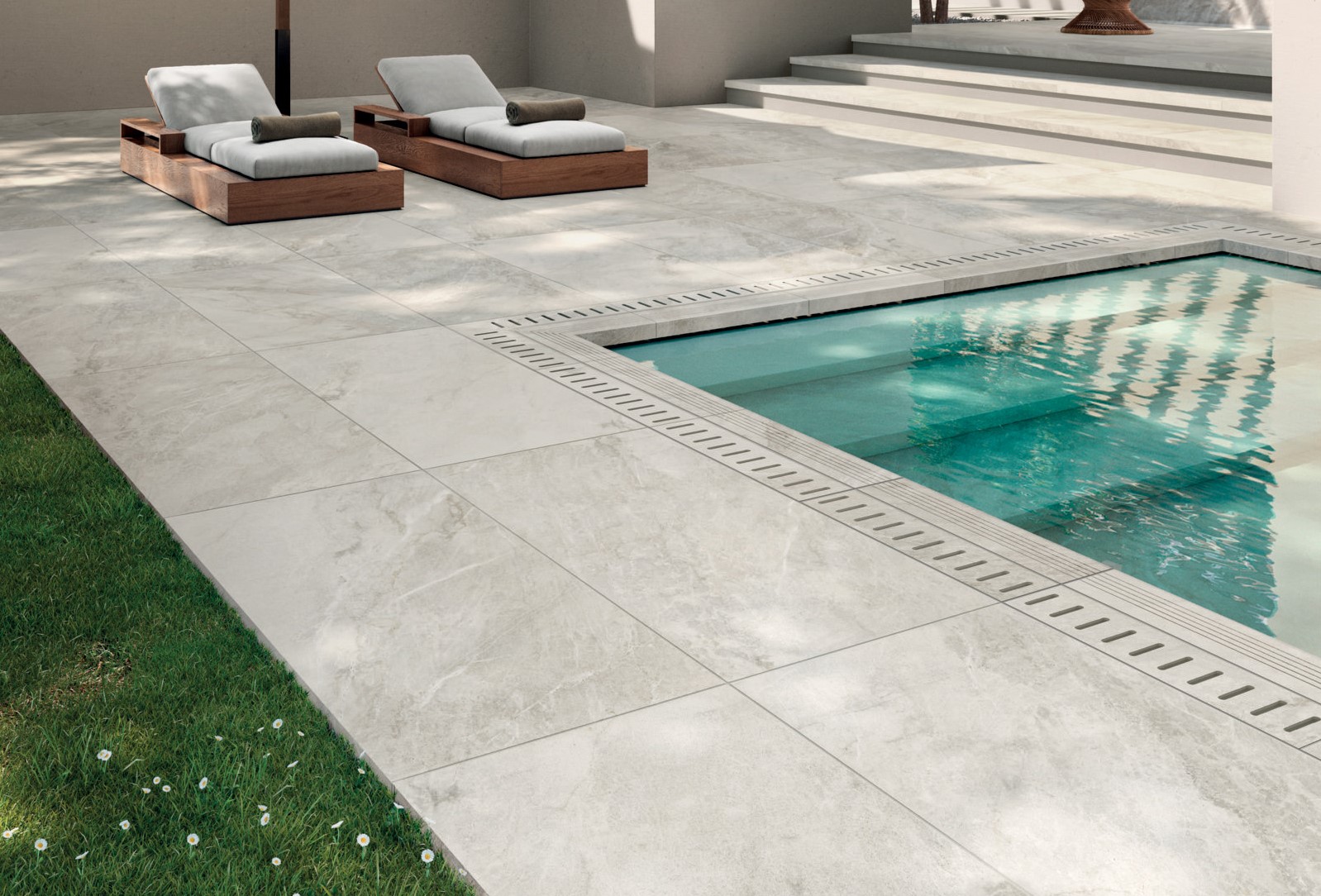 Below, we have shared with you some of the stunning and popular outdoor tiles and styling trends to inspire your outdoor garden renovation
Dark and Contemporary
Flaviker X20 Blue Savoy Graphite.
The Blue Savoy collection re-interprets the solid elegance and dynamic effect of the original stone. This range is available in a wide range of sizes and a variety of surface effects, including non-slip finishes for wet and outdoor spaces.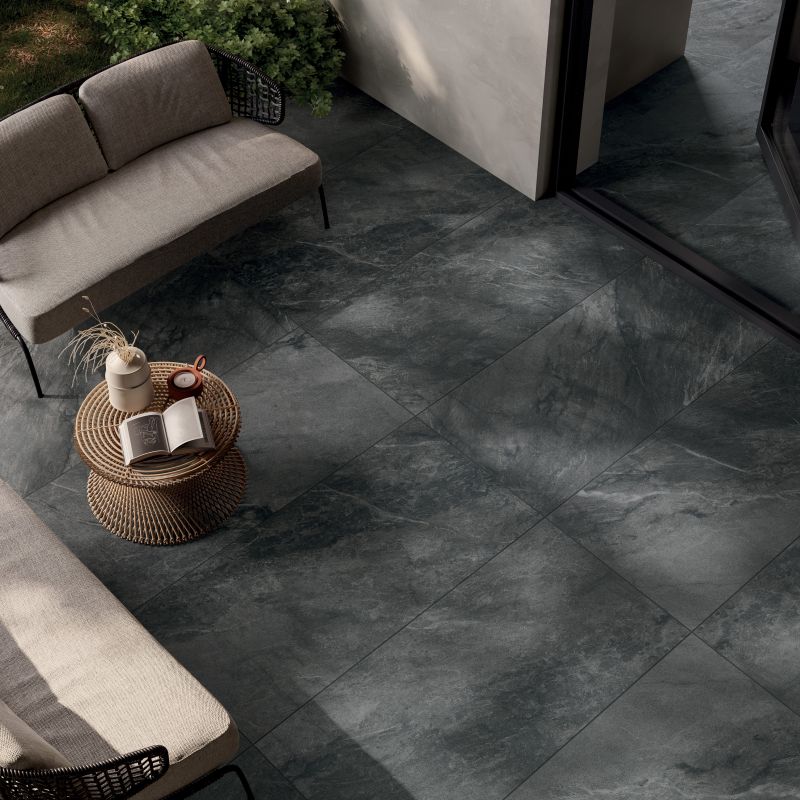 Flaviker X20 Nordik Stone Black.
The texture of Nordik Stone is inspired by sedimentary rocks such as Belgian stone and shell stones. The presence of subtle contrasting veins, fossils and antique effects enhances its appearance, giving it a rustic-chic look that fits in well with Flaviker's more characteristic surfaces such as wood, concrete and industrial-inspired metal effects.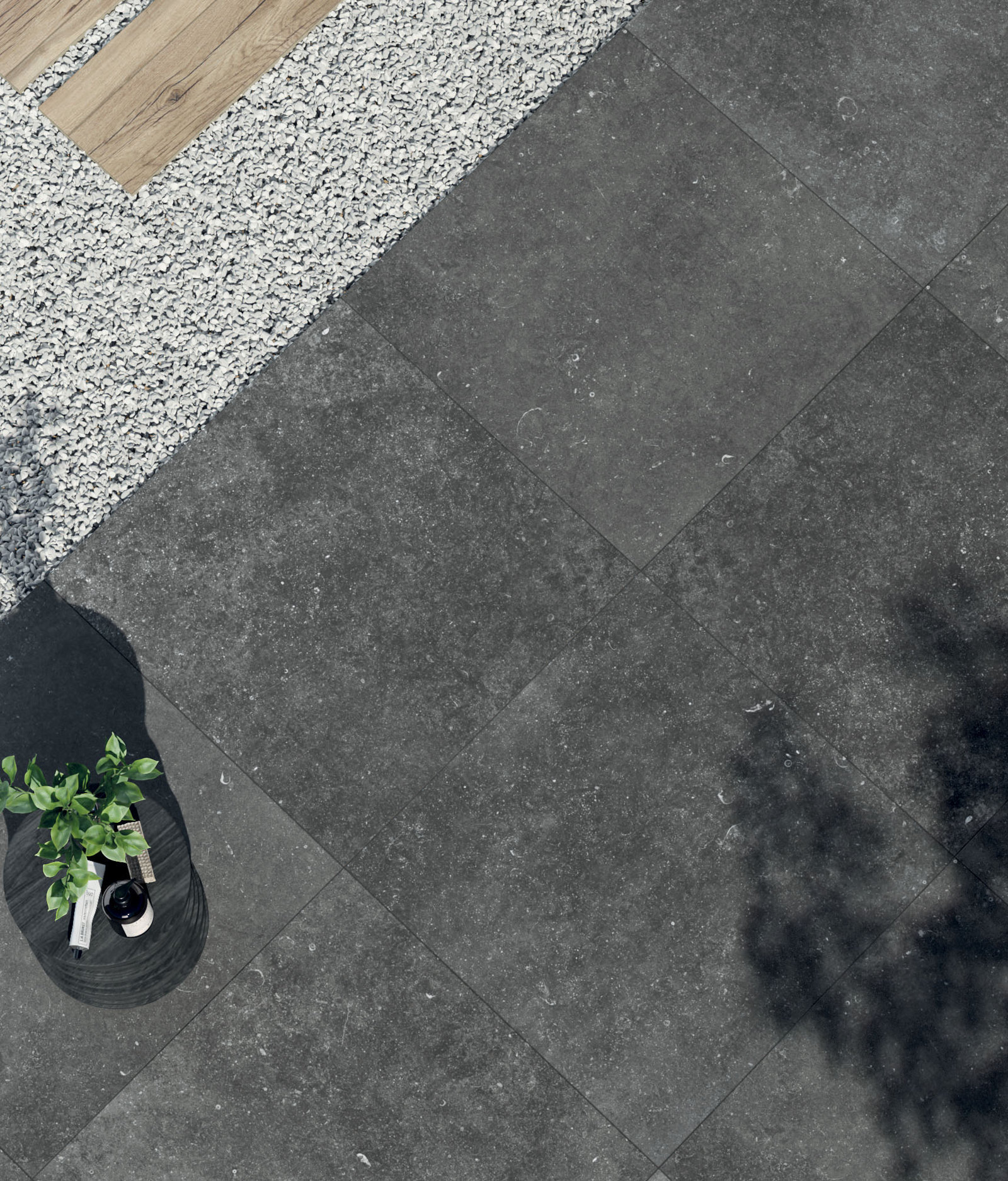 Modern and Natural
X20 Cozy Havana.
Cozy stands out for its warm wood look and harmonious colour contrasts, which create a rustic-chic aesthetic ideal for various furnishing styles. The soft and lightly textured appearance of the COZY planks is enhanced by realistic and almost three-dimensional details and comes in five colours.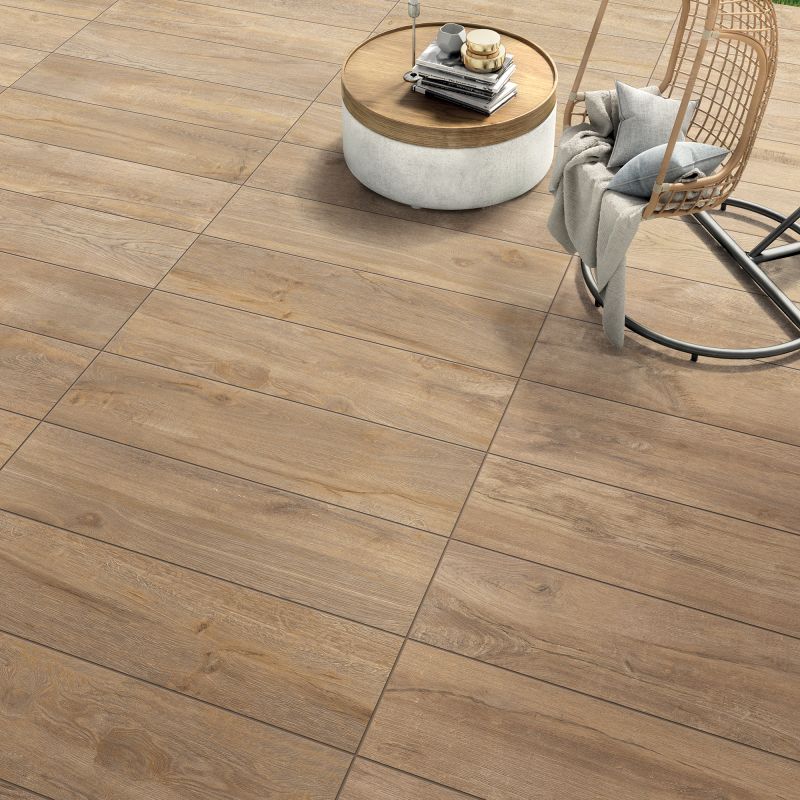 X20 Nordic Wood Brown
The Nordik Wood collection reproduces the imperfections and variety of details of reclaimed wooden planks, creating warm, authentic atmospheres that fit harmoniously into even ultra-minimalist contexts. Nordik Wood is enhanced by details that reproduce the original material with astonishing realism, such as contrasting cracks with an almost three-dimensional look.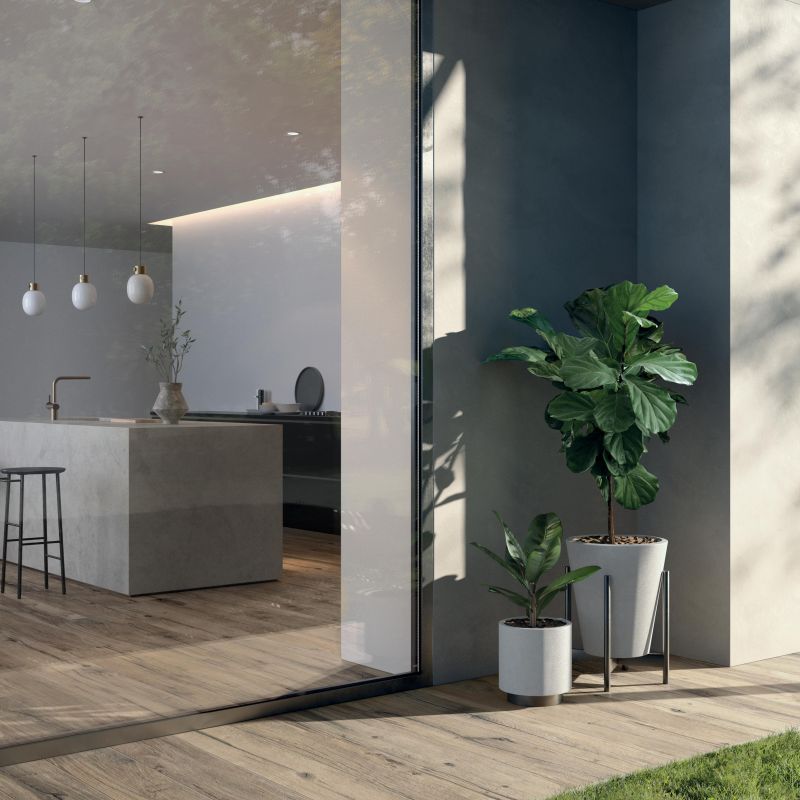 Luxurious and Sleek
Flaviker X20 Navona Honey Vein

Popular since Roman times, travertine was one of the most widely used kinds of marble in ancient buildings and has continued to influence the work of artists and architects through to the modern and contemporary era. The three-dimensional graphic effect enables Flaviker to reproduce the rough look of unfilled travertine, creating a unique and striking finished result that combines the aesthetics of the original material with the versatility and practicality of ceramics.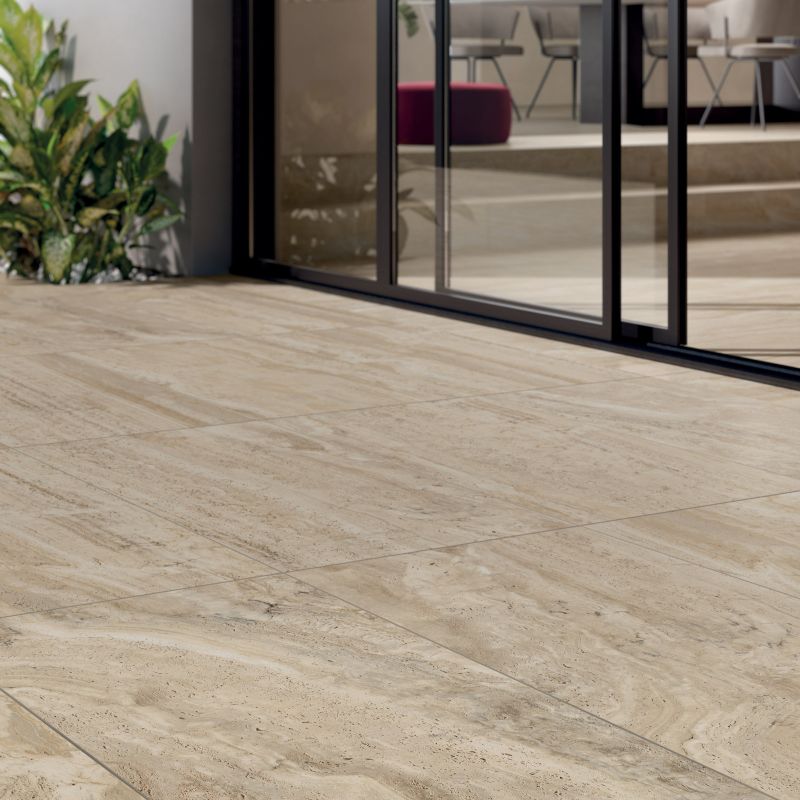 X20 BLUE SAVOY GREY 60X120 20 MM + X20 NORDIK WOOD GOLD 30X180 20 MM + HYPER WHITE 160X320
To create a luxurious outdoor space for your home, consider mixing textures for added interest.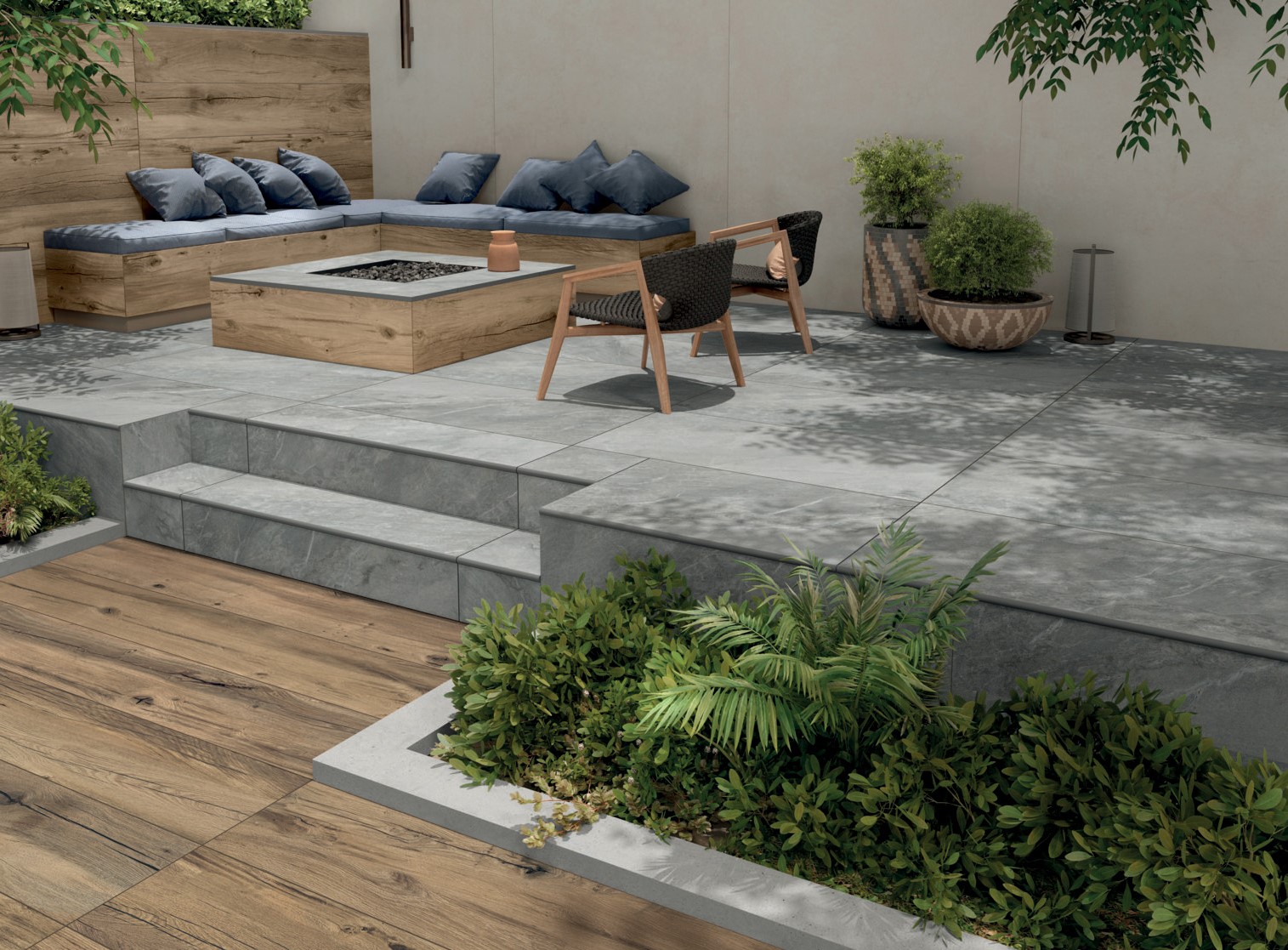 Whatever your garden goals are, it is possible to an external space where you can enjoy the fresh air. With a few simple updates, you can create a stunning terrace, patio or courtyard that will provide the perfect space in your garden.
We would love to help you achieve your home goals. Please get in touch with us at Real Stone & Tile on 0161 485 1373.