Walk-in showers: 2019's Must-Have Trend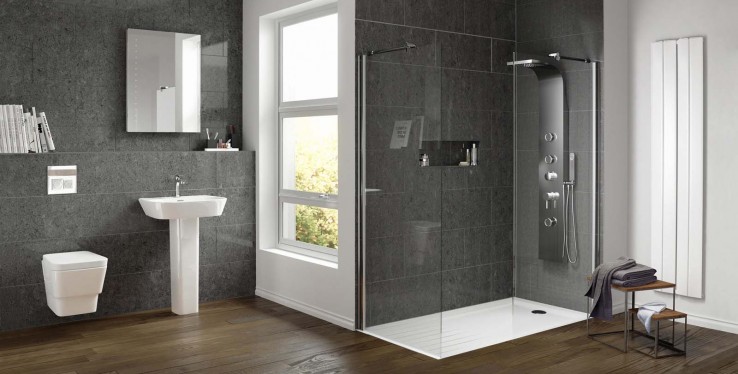 Walk-in showers have seen a huge increase in popularity recently, with many homeowners choosing to remove existing baths and showers to install modernised walk-in alternatives.
The concept of a walk-in shower is simple. A low-level shower tray or drain is installed with a dividing glass panel, making for easy, walk-in access with a sleek and contemporary design. This type of shower can completely transform any bathroom, utilising the space and making for a more modernised, open plan feel.
Installing a walk-in shower to replace your dated suite is a sure-fire way of adding a sense of luxury to your home. Their clean, minimalistic design is a fantastic option for any renovated or new-build home. A bathroom with a walk in shower has a more boutique appearance, which is undoubtably more attractive than the traditional and dated shower and bath suites that we are all familiar with.
As well as looking great, walk-in showers improve accessibility and convenience, and are particularly good for people with lesser mobility. There's the added benefit of easy maintenance with less glass and fewer door hinges to clean than that of a conventional shower.
At Real Stone and Tile, we have the perfect walk-in shower solutions, with glass screens, wet trays, Blootoe shower trays and linear drains. No matter how big or small your bathroom, the walk-in shower can be seamlessly integrated to make the space look as large as possible.
We can also help plan a bespoke look tailored to the layout of your bathroom, to ensure that your new suit suites your taste and style.
Walk in showers can be designed with low-level shower trays or flat-sitting drains depending on the bathroom and your requirements. There are a variety of design combinations to chose from, so finding the right shower for you will be an easy task with Real Stone and Tile's dedicated staff.
You can shop our complete range of walk in showers at Real Stone and Tile! Pop into our Cheadle showroom or give us a call on 0161 485 1373.